Dec. 07, 2020
Nangang Exhibition Hall
gmp completes expansion of exhibition center in Taipei

The Nangang Exhibition Hall is located in the south-east of Taipei, the multi-million metropolis. The extension necessitated a space-saving solution. The new compact building by architects von Gerkan, Marg and Partners (gmp) and J.J. Pan (joint venture partner, Taiwan) makes efficient use of the building plot: two exhibition halls and a conference center are vertically stacked, thereby doubling the exhibition capacity. A translucent facade consisting of green profiled glass louvers forms the envelope on the longitudinal sides, and an expressive, folded roof construction tops the new building. At ground level, visitors enter a multistory foyer with glazing towards the east, which creates a companion piece to the main entrance of the existing trade exhibition complex on the opposite side of the road, thereby visually connecting the existing and extension buildings.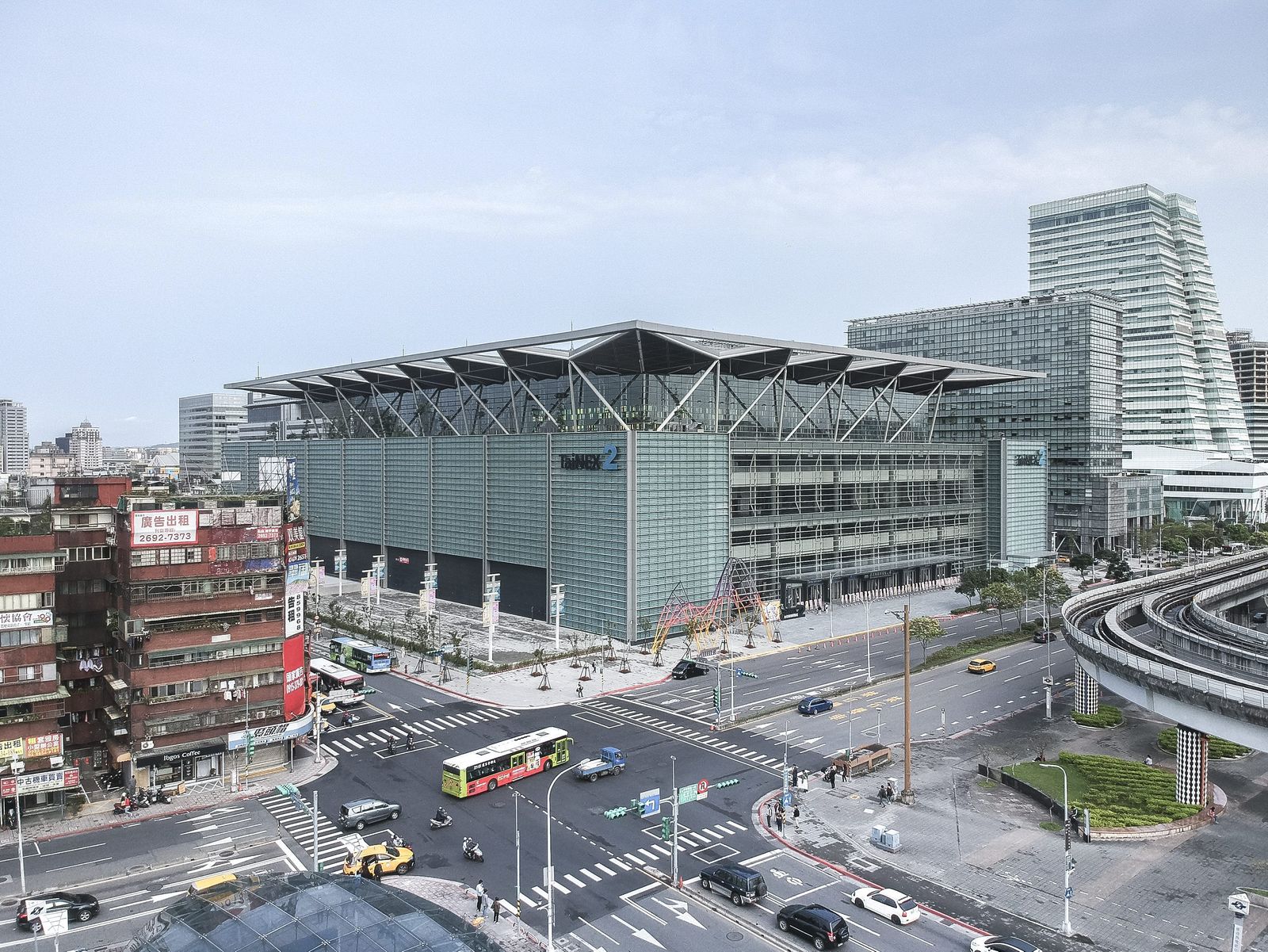 Owing to the very confined space, the delivery and parking facilities have been organized on three floors below ground. In this way, and in spite of the inner city location, with the delivery on the first level below ground it is possible to provide enough circulation, parking, and storage areas to cope with up to 70 trucks at the same time for the purpose of building and dismantling exhibitions. The two lowermost floors are designed as parking decks, providing a total of 1,150 car parking spaces.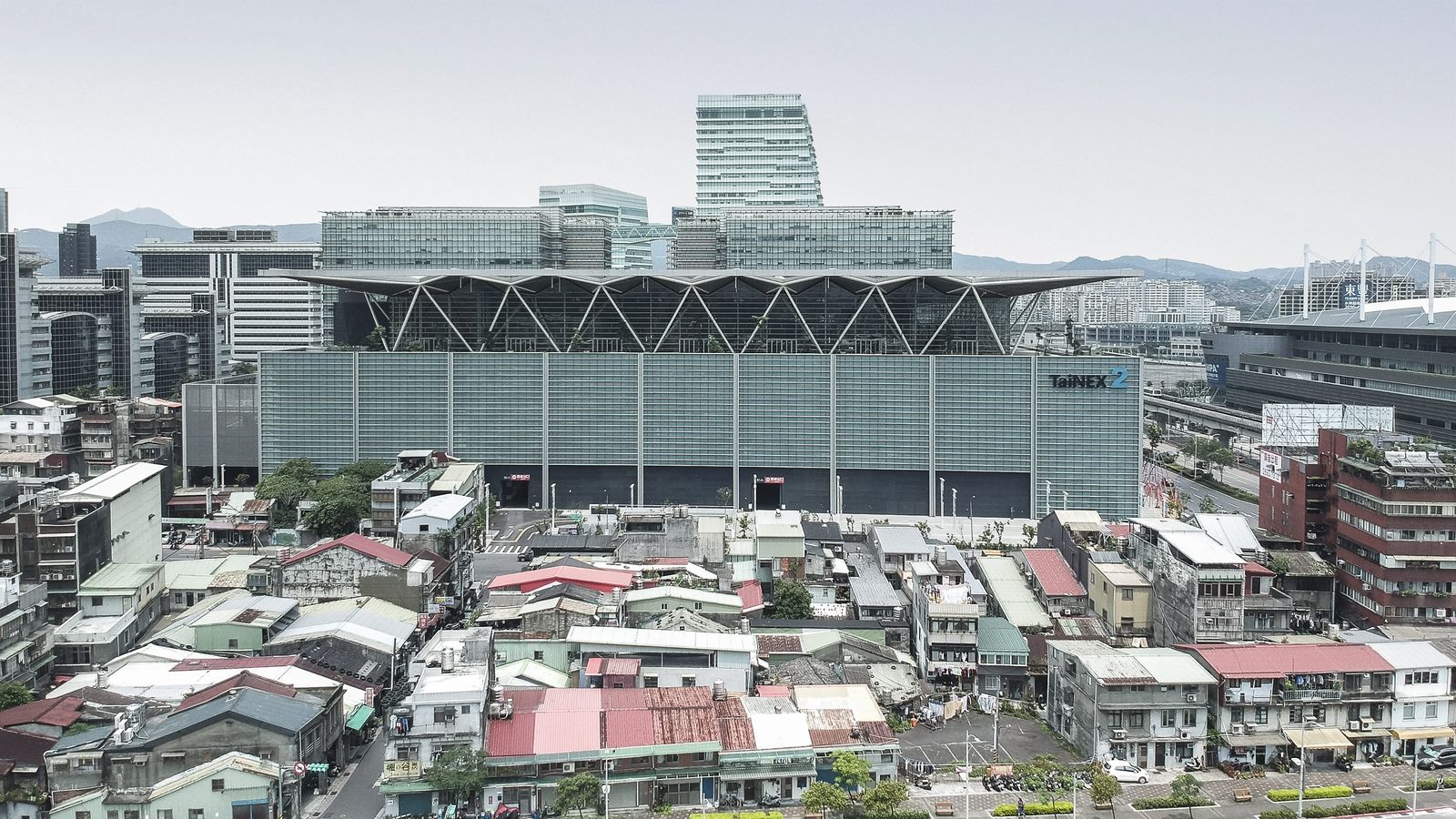 The two about 19,300 square meter exhibition halls are on the first and third floors. Each of the exhibition halls measures 153 x 126 meters; the column grid is 27 x 18 meters. Assuming an average stand area of 9 square meters, each of the exhibition halls provides space for 1,200 exhibition stands, all of which are supplied with power and media connections via floor channels. In addition, two mezzanine floors on the second and fourth floors accommodate the service functions, including gastronomic facilities, plant rooms, and administrative offices. Several escalators link the different upper floors with each other, and glass elevators in the main foyer can be used to directly reach the different exhibition levels and the conference center on the fifth floor.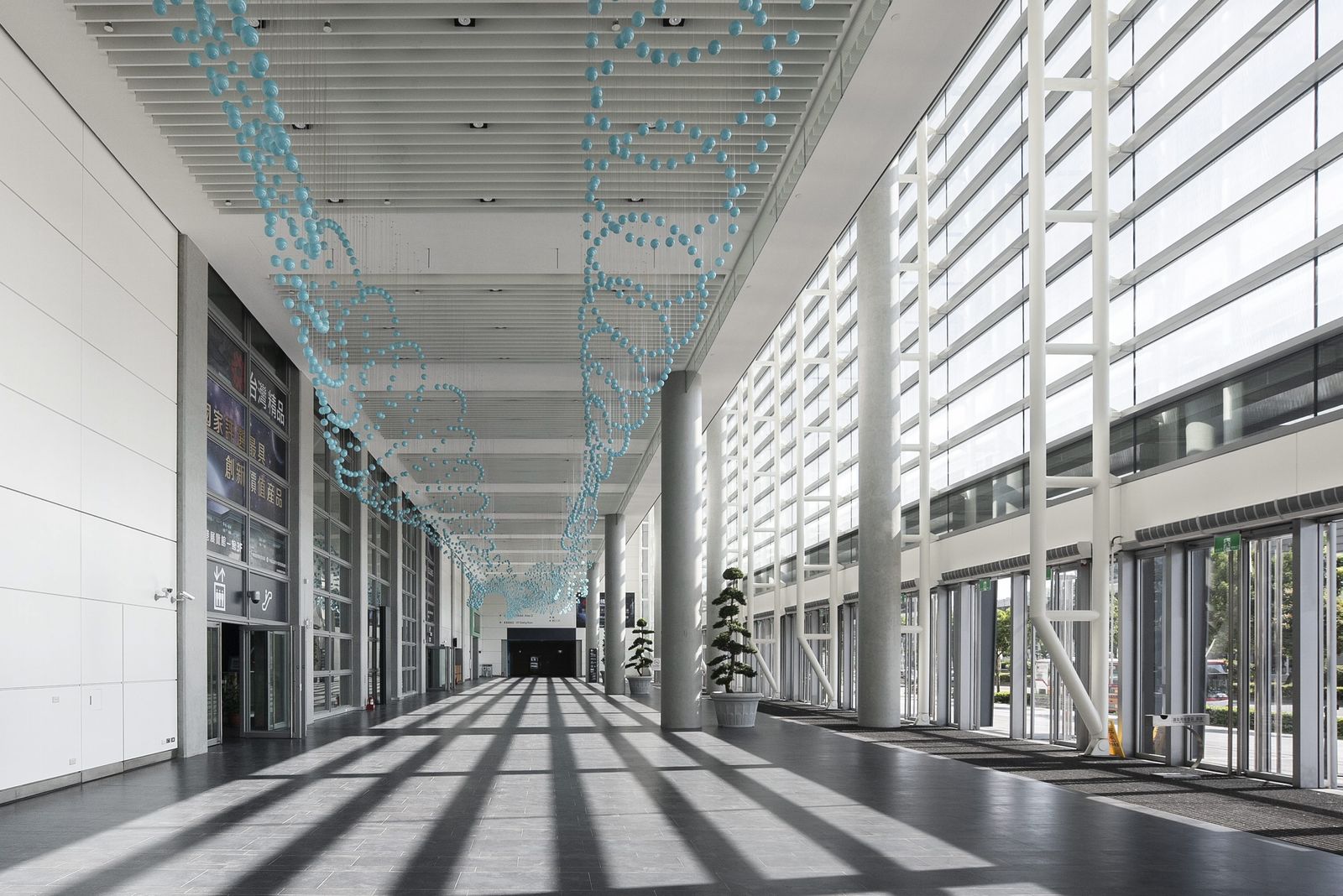 The conference center forms the top of the Nangang Exhibition Hall Expansion, both functionally and visually. The underside of the roof, with its large span, is clad with shiny silver sails that also provide the conference hall with a festive ceiling design. The 5,600-square-meter events hall is free of columns and, for the purpose of smaller events, can be subdivided into eight halls of 700 square meters each. To the north and south, two roof terraces planted with trees run along the conference center. From the large terraces, at a height of approx. 30 meters, visitors can enjoy a stunning vista across the lively city landscape of Taipei up to the green forested slopes of the mountain ranges that surround the metropolis.