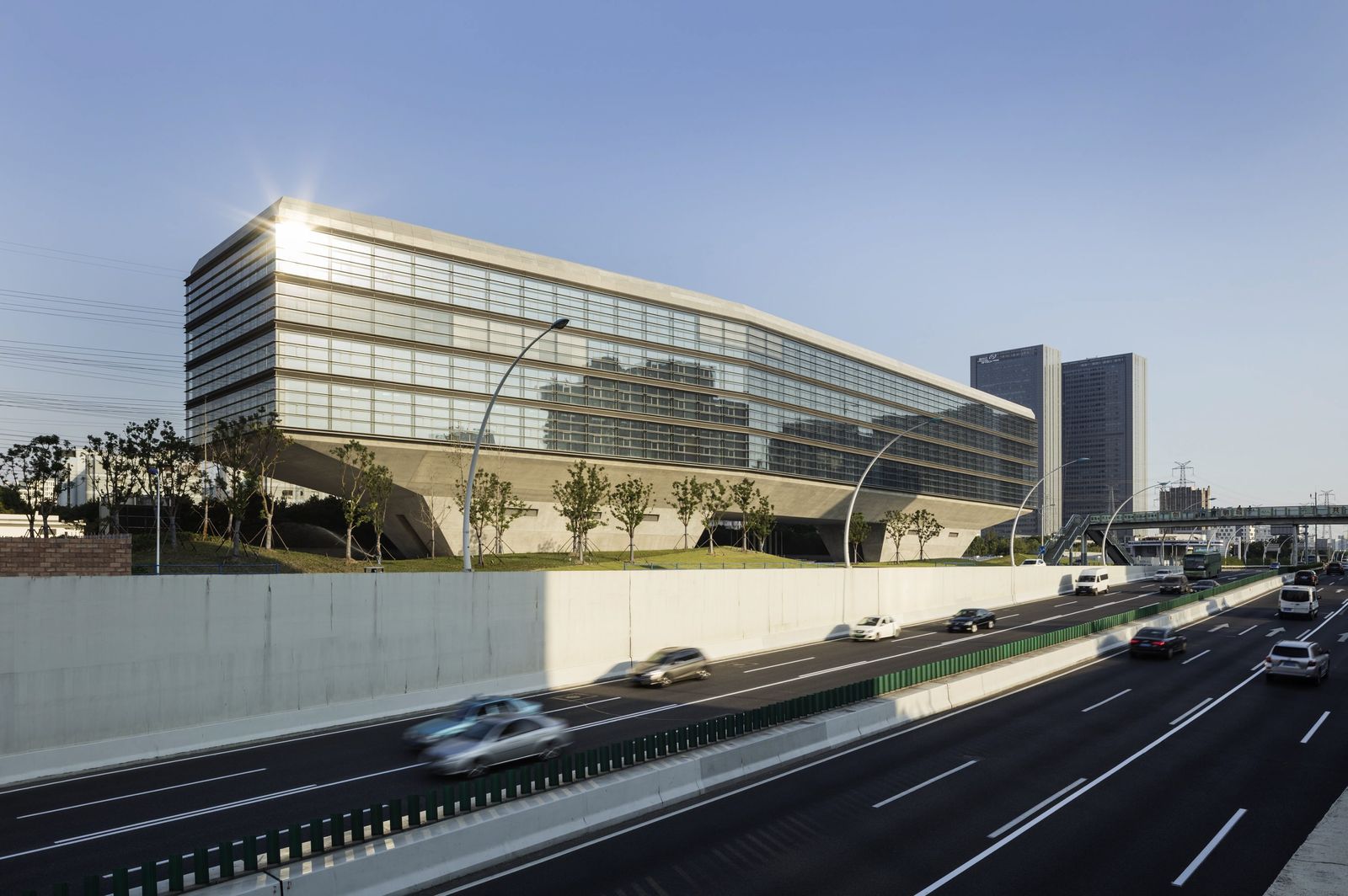 Shanghai, China, 2017
Caohejing Xinzhou Plaza, Office Building
With Caohejing Xinzhou Plaza, designed by Architects von Gerkan, Marg and Partners (gmp), another project has been created for the Shanghai Caohejing Hi-Tech Park Development Corp. in the Chinese metropolis of Shanghai.
Caohejing Xinzhou Plaza has been designed as a prismatic glass volume resting on two conical pilotis. The building measures 170 meters in length, max. 28 meters in width, and about 30 meters in height. The aluminum frame structure of the facades has been constructed as an external double skin with solar screening on the inside. The two building cores, together with two story-high reinforced concrete bearers as floor deck and at roof level, form the primary loadbearing structure. The rooms of the building are flexibly usable in both the horizontal and vertical planes. At the heart of the building lies a showroom that takes up the whole depth and, due to the structural system, is completely free from columns; this is used as an atrium that extends throughout the height of the building.
Taking its cue from the dynamic of the passing traffic, the crisscrossing pathways, and visual relationships, the building symbolically contributes to the urban development of this originally industrial part of the city. Caohejing Xinzhou Plaza appears to be freestanding on three sides and, in this exposed position, can be seen from afar. The open area beneath the raised volume of the building provides the connection with the nearby public park and can also be used as a roofed-over area for meetings and events.
2019
DAM Prize 2019 International Project - Nomination
Design
Meinhard von Gerkan and Nikolaus Goetze with Magdalene Weiss
Partner practice in China
SIMEE
Client
Shanghai Caohejing Hi-Tech Park Development Corp.
Photographers
Hans-Georg Esch
gmp Architects