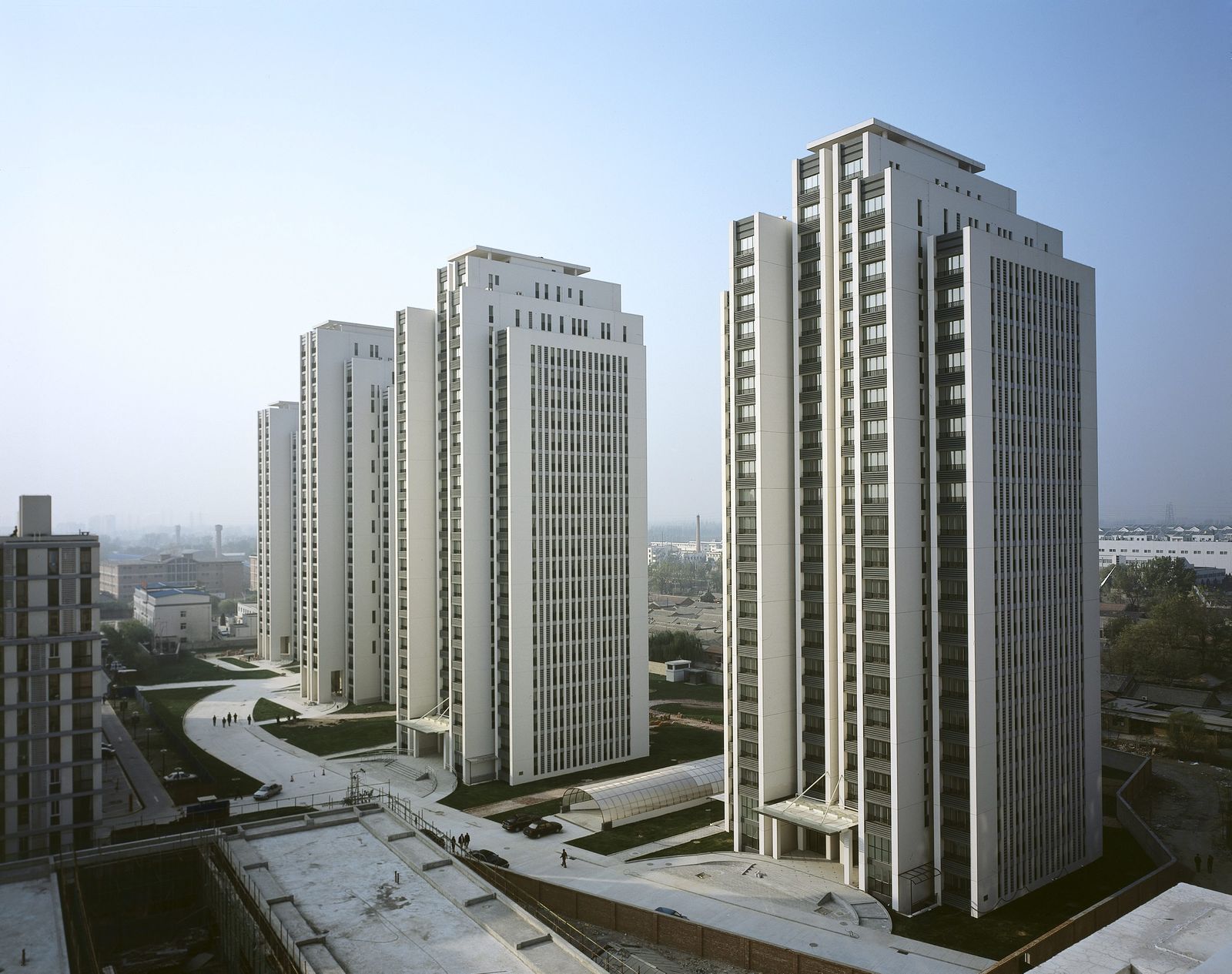 Beijing, China, 2004
Xinzhao Residential Area
A coordinate axis divides the almost square area in four large districts. A centrally positioned activity axis with a treelined sequence of squares stretches from north to south, which terminates with the school premises in the south. A landscape park, in which freely positioned groups of trees alternate with small clearings, runs through the grounds from west to east and forms a green strip in the centre of the residential area.
The residential districts are structured in a linear fashion with a parallel staggered ribbon development, which runs from west to east and consequently allows for a maximum of north-south orientated apartments. The linear structure is alternated in some areas, thus varying the width of the open spaces between the building rows and forming a large number of courtyards of various scale. The main green axis and the smaller courtyards provide open spaces in immediate proximity to the apartments and succes-sively divide the urban space to a reduced dimension. The number of storeys varies between the districts, but is however continuously maintained over longer building fronts and only emphasized in certain places.
Tower-like residential blocks, which are composed from building slabs of various height and alternated positioning, emphasize the curved southern edge of the park landscape and form a contrast to the rectangular structures of the district blocks with massive edges on all sides.
All districts are interlinked via the central boulevard and "park drive" running south of the tower blocks and are accessible from these roads in a loop-shaped circulation. A continuous network of footpaths is planned for pedestrians, which runs through the green courtyards in a north-south direction and is interlinked with passages in the rows of buildings.
A shopping centre in the south-east as well as the commercial use on the ground floors along the roads provide an ideal supply of the residents with everyday facilities and services.
Design
Meinhard von Gerkan and Nikolaus Goetze, 2000
Chinese partner practice
Beijing Victory Star Architecture Design Co.
Client
Beijing Xinzhao Real Development Co.;
Construction period, first building phase
2001–2002
Construction period, second building phase
2002–2004
Gross floor area, first building phase
160,000 m² – 1,468 apartments
Gross floor area, second building phase
75,000 m² – 695 apartments