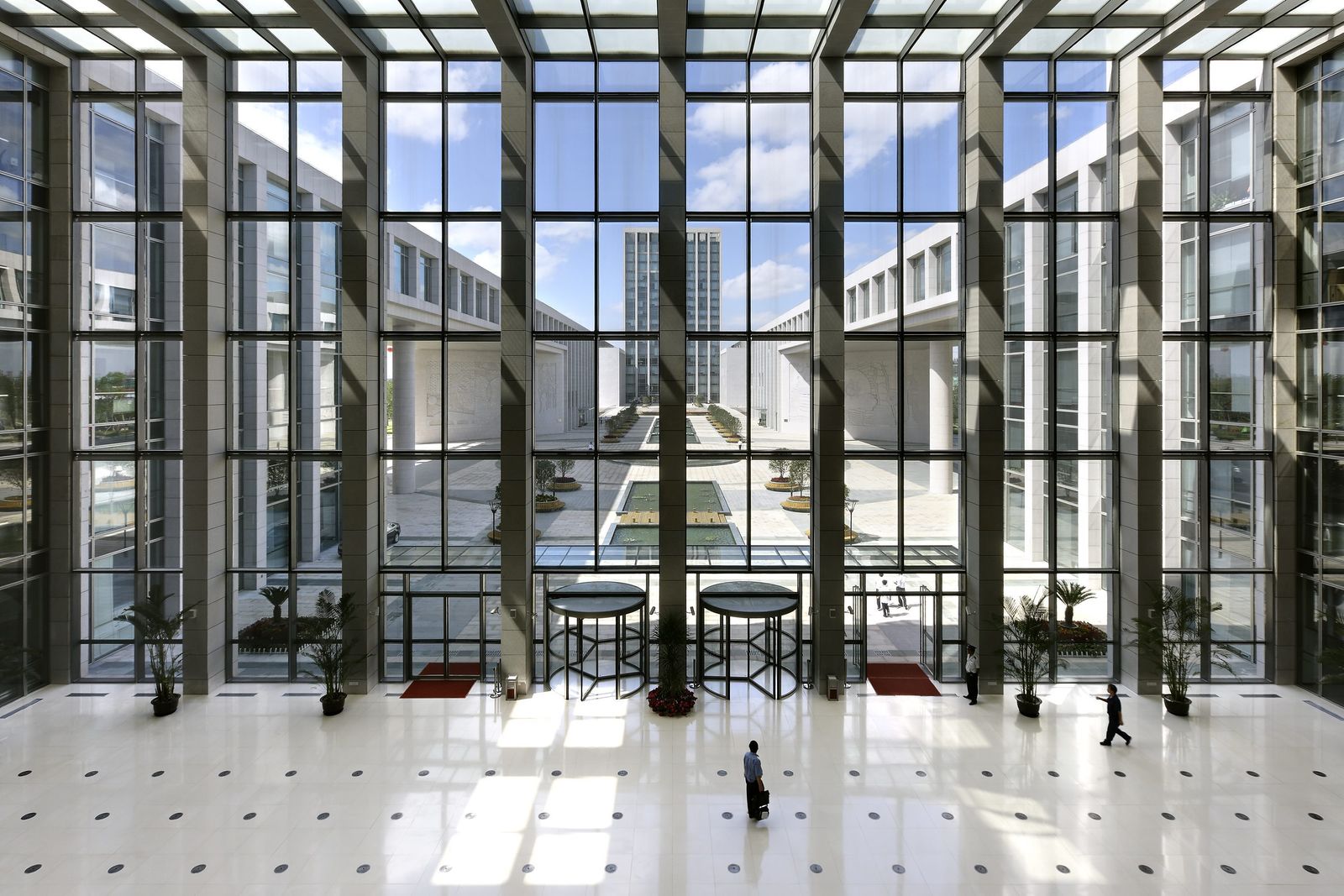 Shanghai, China, 2008
Nanhui Administration Center City
The exposed position of the plot by one of the main access roads of the Lingang New City demands a similarly exposed as well as distinct architectural composition of the individual main buildings and annexes of the Office Center which will be grouped together to form a super-ordinate ensemble. The distinguishing thought behind the conception is to establish a balance between the unity of the whole complex and the diversity of its various individual buildings.

The unity is assured on the one hand by the super-ordinate theme of the generous natural stone façade that, depending on the use, is varied by additional shading elements or horizontal bands of façade and on the other hand by the super-ordinate typology of two parallel strips of buildings that accompany centrally outlying yards or access foyers.

The central square in the complex is spanned by a large quadratic roof, a curtain of water permanently running down from this lends additional emphasis to the square and ensures pleasant cooling and a high incentive to linger here.

In the east and west of the complex two light-filled entrance halls covered with shed roofs adjoin this patio. In the main building on the east side a cascade-like staircase leads to the central zone that is crowned by a conference hall with capacity for up to 2,500 people.

On the western side of the complex the annexes are grouped around the inner courtyard with its palm trees and the river flowing through it.
Competition
2005 — 1st prize
Design
Meinhard von Gerkan
Chinese partner practice
SIADR
Client
Government of the Nanhui District
Gross floor area
100,860 m²
Construction period
2006–2008
Photographer
Marcus Bredt