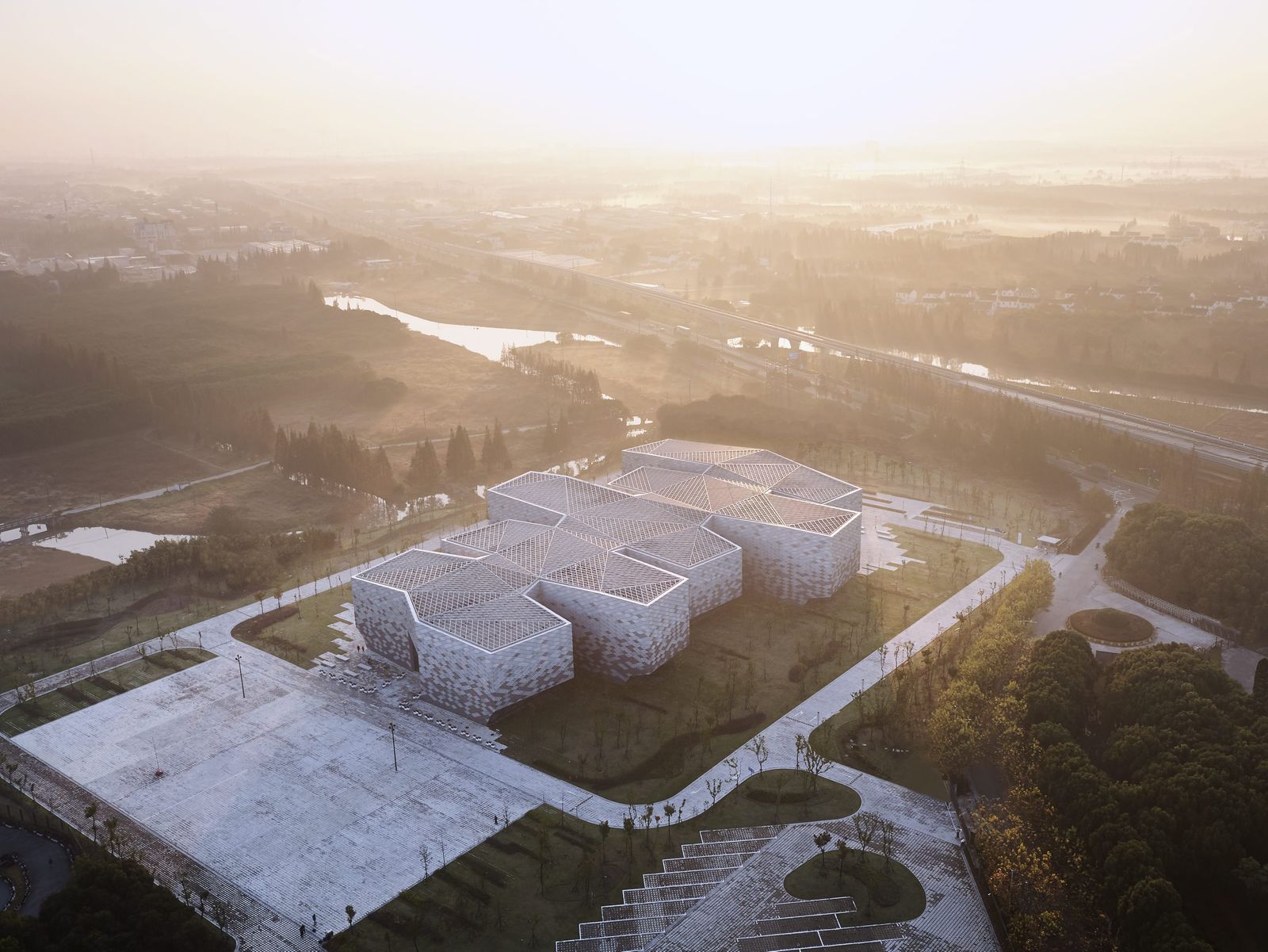 Shanghai, China, 2018
Shanghai Training Base
The Oriental Land Shanghai leisure park is located some 27 kilometers outside the city of Shanghai at Zhujiajiao in the Qingpu District. Directly adjacent to the technical exhibition complex, a training center has been created in which groups of school pupils can learn how to behave correctly in dangerous situations. The three-story development consists of five parallel blocks that are slightly offset from each other and whose upper floors cantilever at the ends. A central hall running from north to south connects the building blocks as a central atrium. The different building blocks are accessed from the lobby and the surrounding galleries. A scale–like metal facade consisting of diamond-shaped panels covers the entire building complex; only the north and south entrances and the junctions between the blocks feature glazed facades. The room-high glazing between the building blocks provides views, making the sequence of blocks evident as one passes through the building. Depending on the angle of the light, the blue-gray metal panels of the facade of the training center appear to merge, like camouflage, with the surroundings. Perforated panels allow light to fall into the rooms behind them and cover the ventilation openings. Parametric facade design was used to make economic serial production possible in spite of the complex geometry of the exterior envelope—an important factor given the tight budget.
Competition
2013—1st place
Design
Meinhard von Gerkan and Nikolaus Goetze
Partner practice in China
Tongji Architectural Design (Group) Co., Ltd.
Client
Oriental Land Shanghai
Construction period
2016–2018
Photographer
Christian Gahl