Jun. 06, 2014-Nov. 23, 2014
Too good. Two. Be true.
14th Architecture Biennale 2014, Venice

Too good.
Two.
Be true.
Blueprints for the future: the airports Berlin-Tegel and Berlin Brandenburg by the von Gerkan, Marg and Partners Architects

1914–2014: the period of world history which the 2014 Architecture Biennale revolves around is the century in which the modern world has come about, a technological and globalised world. A central element in this development: the dream of flying has become a reality, for everybody. In 1914 there were no airports, only grass strips for starting and landing, and hangars. Today, one hundred years later, there are complex mega-structures such as the Berlin-Brandenburg Airport (BER), built for millions of visitors.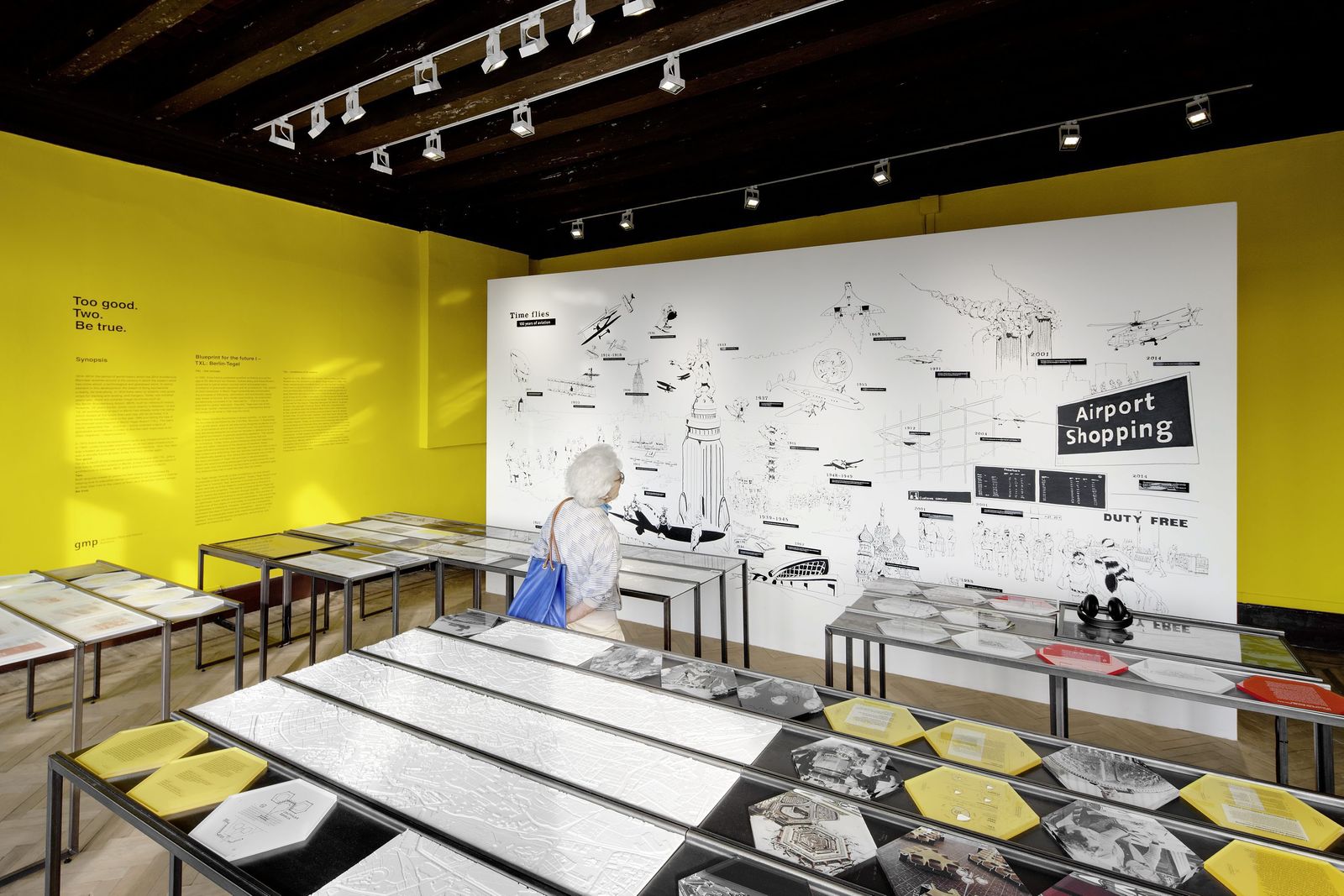 However, 50 years earlier, pretty much exactly in between '14 and '14, an architectural project in Berlin had already come into being which looked at the future then and may still do so today. It is worthwhile travelling back to the year 1965
and telling the tale of the concept and creation of Berlin-Tegel Airport (TXL). The tale's moral: Remember the – positive! – future-oriented origins of globalized architecture in order to find the right responses to its – often negative! – repercussions.

In 1914 there were aeroplanes but hardly any infrastructure for them.

In 1965, under fortunate conditions, an all but ideal infrastructure was created as a pioneer of globalised architecture.

1914, this ideal was a remote future at best; today it is very remote again.
Too good.

Yet as a result of the interaction with the past and with TXL, gmp's first future-oriented airport in Berlin, a new future-oriented piece of architecture is created: BER, gmp's second airport in Berlin.
Two.

Both airports create or preserve their being future-oriented by staying true to plausibledesign principles in as consistent a manner as they stay true to the users of their very structure: human beings.
Be true.