Jan. 22, 2019-Apr. 22, 2019
DAM PREIS 2019 – The 25 best buildings in/from Germany, Deutsches Architekturmuseum
Kulturpalast Dresden wins DAM Preis 2019
gmp Architects honored for the refurbishment and conversion with concert hall
With the DAM Preis 2019 for architecture in Germany, the jury showed its appreciation for the reconstruction of an outstanding building in the Moderne style of the GDR in line with conservation principles and praised the new concept by Architects von Gerkan, Marg and Partners (gmp). The converted building is home to the new concert hall for the Dresden Philharmonic Orchestra, amongst others, the new central library, and the "Herkuleskeule" cabaret venue. Meinhard von Gerkan and Stephan Schütz, together with Nicolas Pomränke and Christian Hellmund, will receive the award from the German Museum of Architecture (DAM) at the awards ceremony on January 25, 2019 in Frankfurt.
The German Architecure Museum (DAM) in Frankfurt now presents the Kulturpalast Dresden at the center of the exhibition entitled DAM PREIS 2019 – The 25 best buildings in\from Germany. A film produced to a concept by gmp brings to life for the exhibition visitors the special atmosphere and the interplay of the different functions during the course of a day.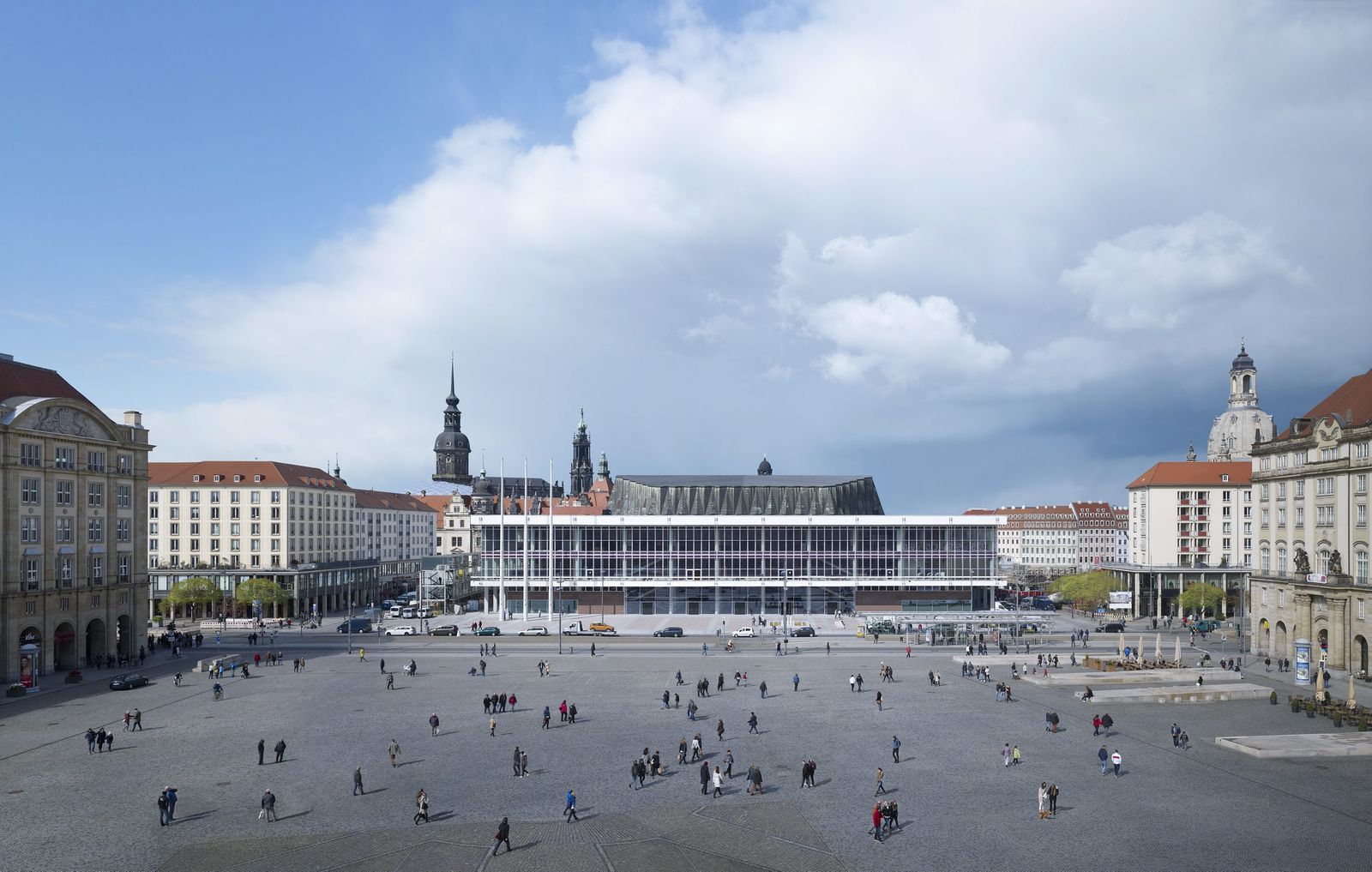 The conversion and refurbishment of the building included the new construction of a concert hall with 1,800 seats in the center of the existing listed building. The original building substance was reconstructed and integrated in the new design, while the facades were upgraded to current energy conservation standards. While the exterior of the building, which is an outstanding example of the Moderne style in the GDR, was largely restored to its original design dating from 1969, the spatial organization and circulation of the interior were redefined. The design of the Palace takes account of its unique central position between Altmarkt, Schloss, and Neumarkt, providing an all-round orientation with direct access from all three main facades. The combination of culture, education, and entertainment, which will ensure that the venue is much frequented by quite different user groups, has its spatial focal point in the large foyer facing south towards the Altmarkt, which is the main access point to all three main functions and is thus a very busy and lively place.
At the heart of the building, the concert hall—which has been designed to accommodate other functions as well—has been re-developed in a style that is neither secondary to the existing style elements nor deliberately contrasting with these, but that rather aims for a respectful and charged dialog with the existing building fabric. Its architecture follows the "vineyard" model, with terraced seating that fits with the geometry of the hexagonal arrangement of the layout. In contrast to the warm color of the wooden terraces, the white waves of the walls slowly move from the regular geometry of the layout until they join up at the ceiling of the hall.
With this new concept for the Kulturpalast, Dresden has now been given not only a concert hall of international standing, but also a welcoming venue of culture and knowledge, and a place of informal civic encounters and communication which continues the lively tradition of the building.