Oct. 30, 2019-Nov. 30, 2019
South Bund Shanghai & Waterfront Projects in Hamburg, SUSAS Shanghai 2019
Crossing Water - Connecting the Hamburg HafenCity by von Gerkan, Marg and Partner Architects at Shanghai Urban Art Space 2019 "Encounter"
gmp is part of the Shanghai Urban Space Art Season (SUSAS) 2019.The theme of the main exhibition is ENCOUNTER for encounters of people, water and bank, art and urban spaces, history and future which in turn incite more beautiful life and emotional encounters and create inerasable city memories at the 70th Anniversary of the People's Republic of China.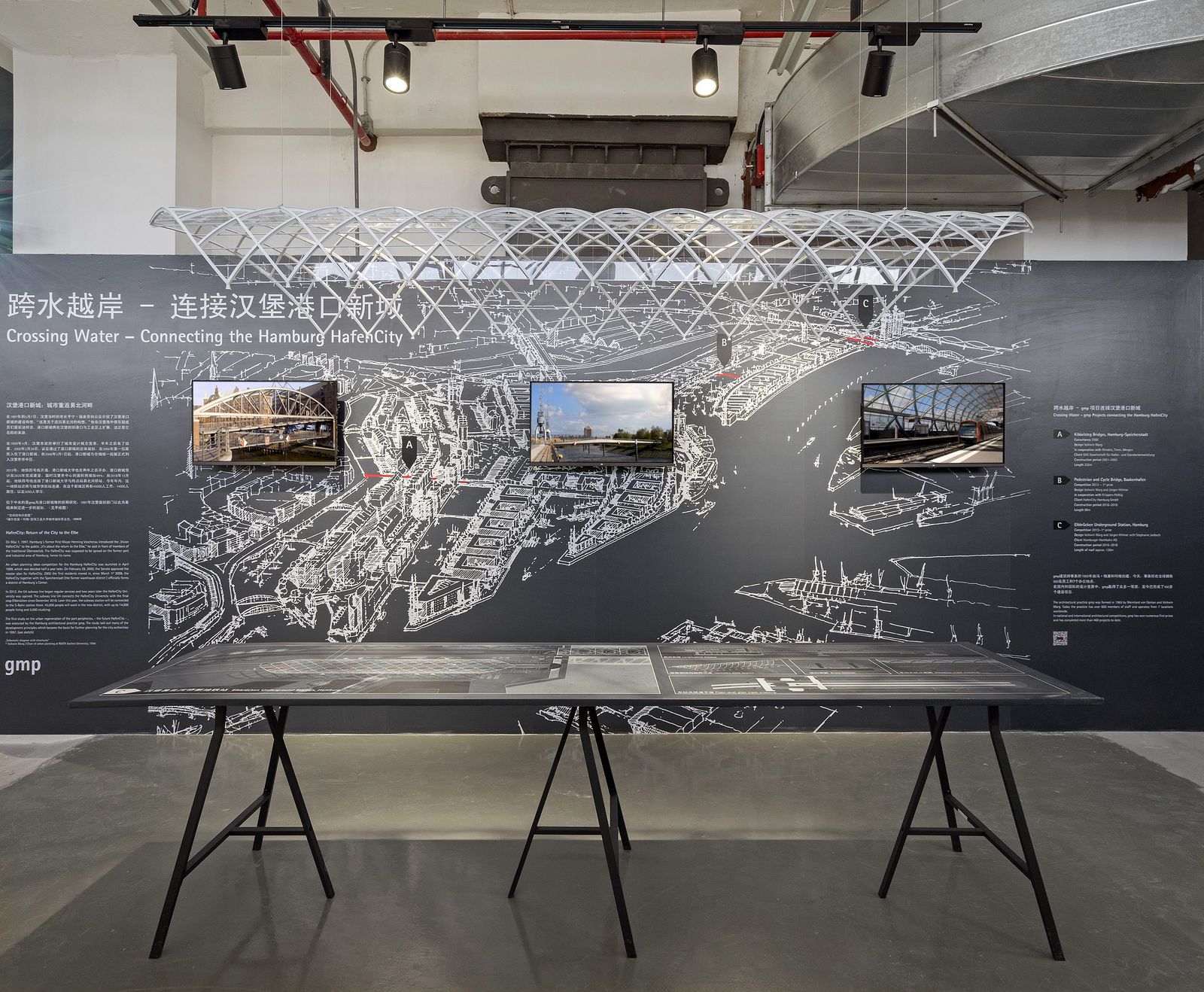 gmp was invited to present the design concept of the South Bund project with an interview video - initiaded and produced by the SUSAS exhibition team - in the "Pixelating Huangpu River" theme exhibition in the Maoma Warehouse. The video interview can be found online on the website http://www.sdpcus.cn/activity_details41.html
At the same time gmp was invited to participate in the section "Planning & Architecture" of SUSAS main exhibition with some international best practice examples. The exhibition showcases three projects of gmp and its partner offices on the waterfront of Hamburg's Hafencity. The Kibbelsteg bridge, the bicycle and pedestrian bridge in Baakenhafen and the new Elbbrücken Underground station.
Hafencity is Europe's largest realised urban design project. The first study on the urban regeneration of the port peripheries, - the future HafenCity - was executed by the Hamburg architecture practice gmp. The study laid out many of the development principles which became the basis for further planning for the city authorities in 1997.
An urban planning ideas competition for the Hamburg HafenCity was launched in April 1999, which was decided half a year later. On February 29, 2000, the Senate approved the master plan for HafenCity. 2005 the first residents moved in, since March 1st 2008, the HafenCity together with the Speicherstadt (the former warehouse district ) officially forms a district of Hamburg´s Center.
In 2012, the U4 subway line began regular services and two years later the HafenCity University was opened. Since December 2018, the subway line U4 connects the HafenCity University with the final stop Elbbrücken. Later this year, the subway station will be connected to the S-Bahn station there. 45,000 people will work in the new district, with up to 14,000 people living and 5,000 studying.
Visitors can walk underneath the 1:50 suspended structural model of the new Elbbrücken Underground Station and watch the three project videos on the wall in the ambient sound collected at the Hamburg Hafencity.