Dec. 21, 2020
BDA Hamburg Architecture Prize 2020 for gmp
Elbbrücken Underground and Railway Station among First-Prize Winners

Every two years, BDA Hamburg awards its prize to buildings completed in the Hamburg region that exemplify good architecture, thereby honoring the combined effort of architects and clients. This year's jury chaired by Prof. Dietrich Fink recognized the Elbbrücken underground and railway station designed by architects von Gerkan, Marg and Partners (gmp). Out of 83 submissions, gmp received one of three equally ranked first prizes for the underground and railway stations completed in 2019. According to the jury's statement, "Since the end of the war, there has been more of a tendency to demolish than to build architectural quality in the underground rail network. At this prominent location, the two Elbbrücken railway stations are once again expressing pride in the beauty of engineering achievements and are greeting passengers with a hearty Ahoy!"
After winning the competition for construction of the new underground station in 2013, gmp was subsequently commissioned to build the roof over the railway station as well as the connecting structure. Located in an urban center at the end of the Baakenhafen, the new "Elbbrücken" district extends to the eastern border of HafenCity. In order to connect the new urban precinct to the public transportation system, the U4 underground line was extended to the Elbbrücken bridges and a new stop was completed on the S3/S31 metropolitan railway line (S-Bahn). Since the timetable change in December 2019, passengers can transfer directly from the S-Bahn to the underground system at this new public transportation interchange. Commuters on their way to the Hamburg city center are now have the attractive option of changing trains here, which takes some of the pressure off the central station.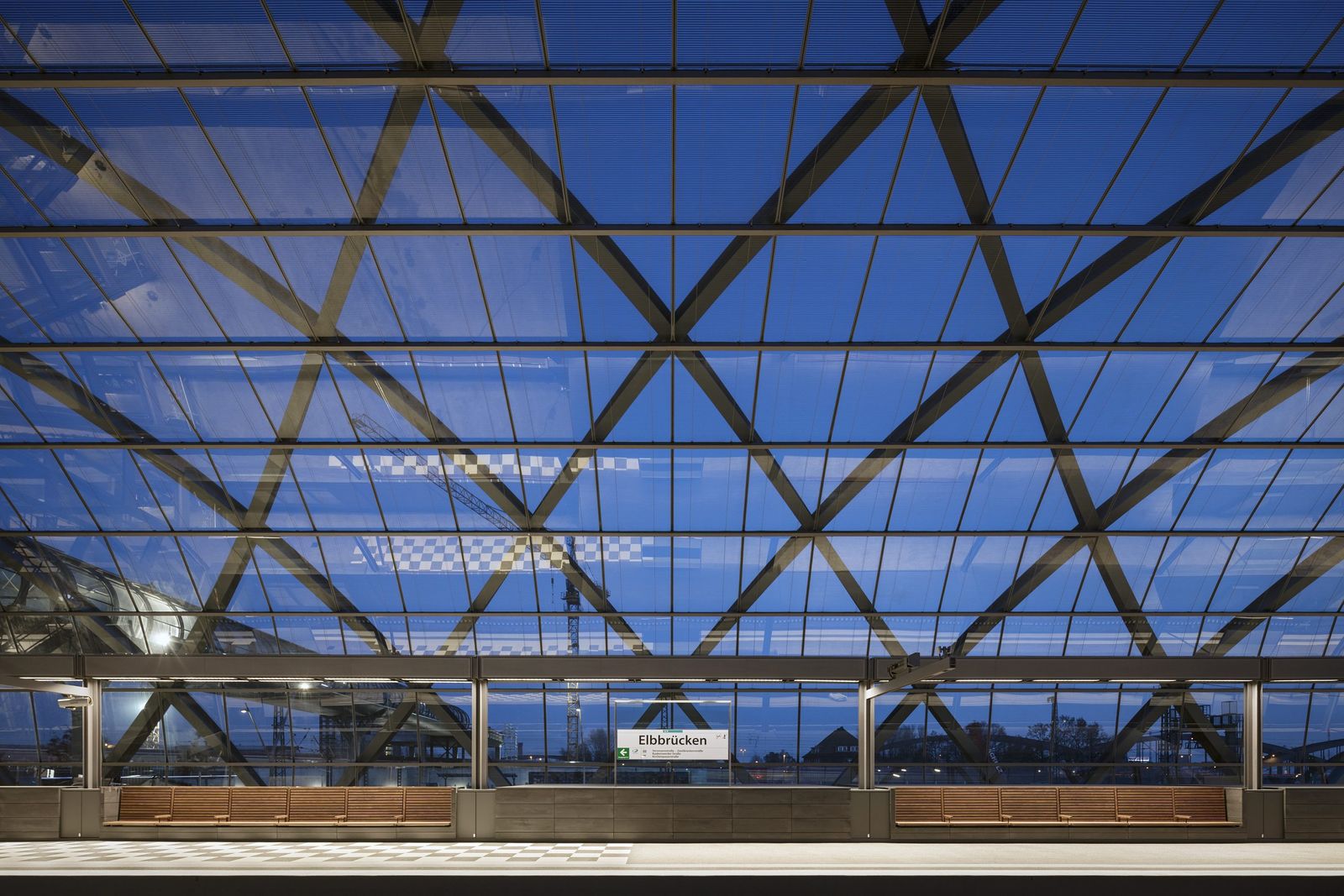 The underground station and the roof structure of the S-Bahn station bear the same architectural signature, with the result that the transportation facilities and Elbbrücken bridges appear as a holistic ensemble. gmp, in collaboration with structural engineers schlaich bergermann partner (sbp), submitted the design for the three-dimensional geometry of the steel and glass structure as a modern reflection of the imposing historic Elbbrücken bridges, which are listed as a historic monuments. The roof structure of the underground and S-Bahn stations creates an ellipsoidal arch profile consisting of crossing arched steel frames. The twisted steel beams are arranged to form a diamond-shaped grid pattern in which the individual arches stabilize one another. The structural steel members are outside the envelope – the glazing being supported on the inside – thereby achieving a distinguished presence in the cityscape and creating an aesthetic response to the adjacent Elbbrücken bridges. In line with the diamond pattern, the roof ends on both gable sides form conspicuous projecting points.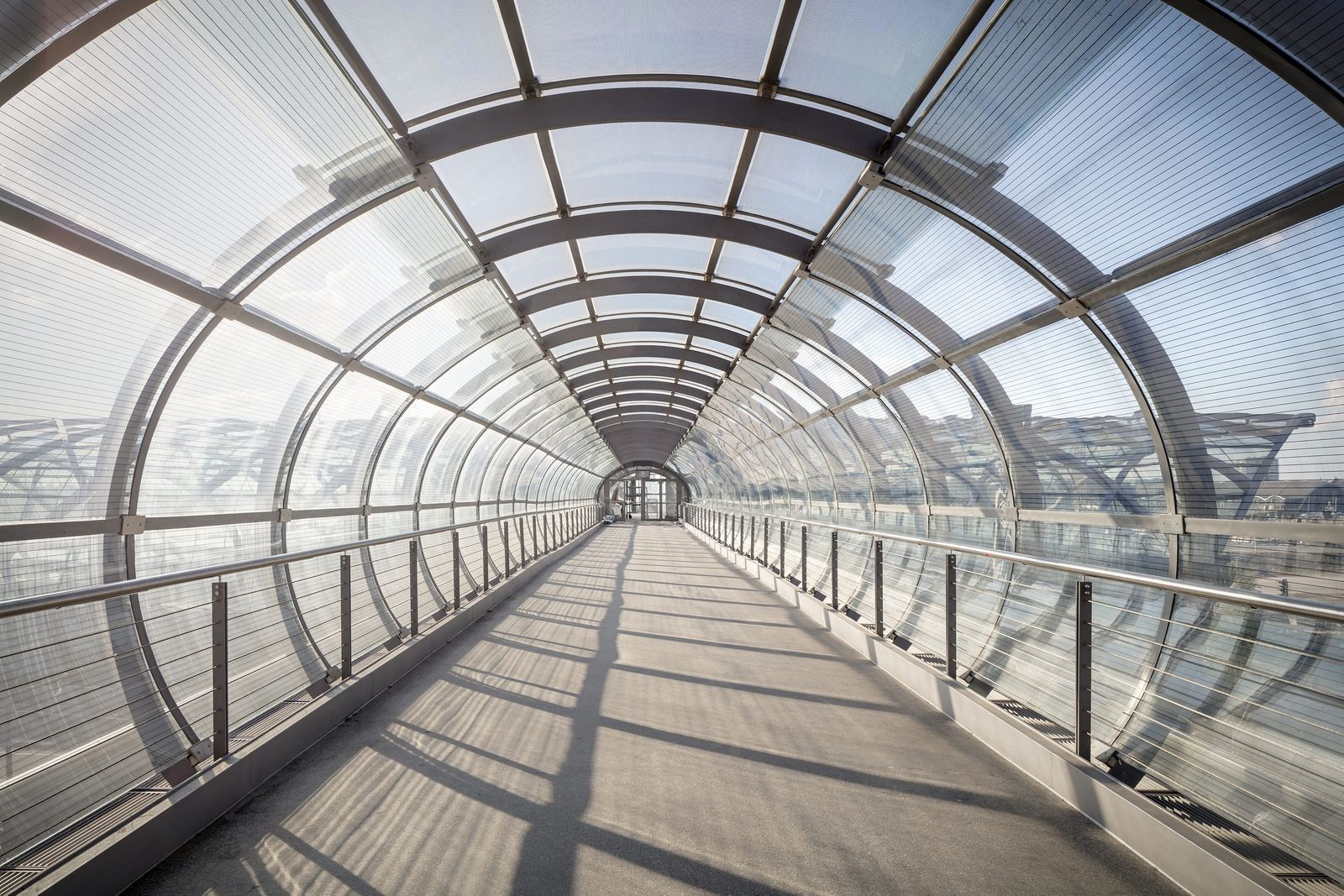 A few years from now, the view now enjoyed from the observation deck at the end of the platform will become the point where the underground initiates the "Sprung über die Elbe" (leap across the Elbe). The extension of the U4 underground line will connect the new Kleiner Grasbrook district that is currently being planned on the southern bank of the Elbe River to the public transportation network.