Jul. 13, 2020
Branched out cityscape in Guangzhou
gmp wins first prize for international transportation hub
The planned Guangzhou Xilang Integrated Transportation Hub will be created at the boundary between Guangzhou and Foshan. Guangzhou, a megacity in the south-east of China, is part of the Pearl River Delta Economic Zone, which also includes Hong Kong and Macao. The architects von Gerkan, Marg and Partners have won first prize in a multi-stage international competition for the development of this important transport interchange and the surrounding urban areas. The design of the circulation links between various functions and public spaces looks like the web of roots of a tree and creates not only a very efficient flow of traffic but also a lively mixed urban landscape that expands both horizontally and vertically, making use of the space above and below ground.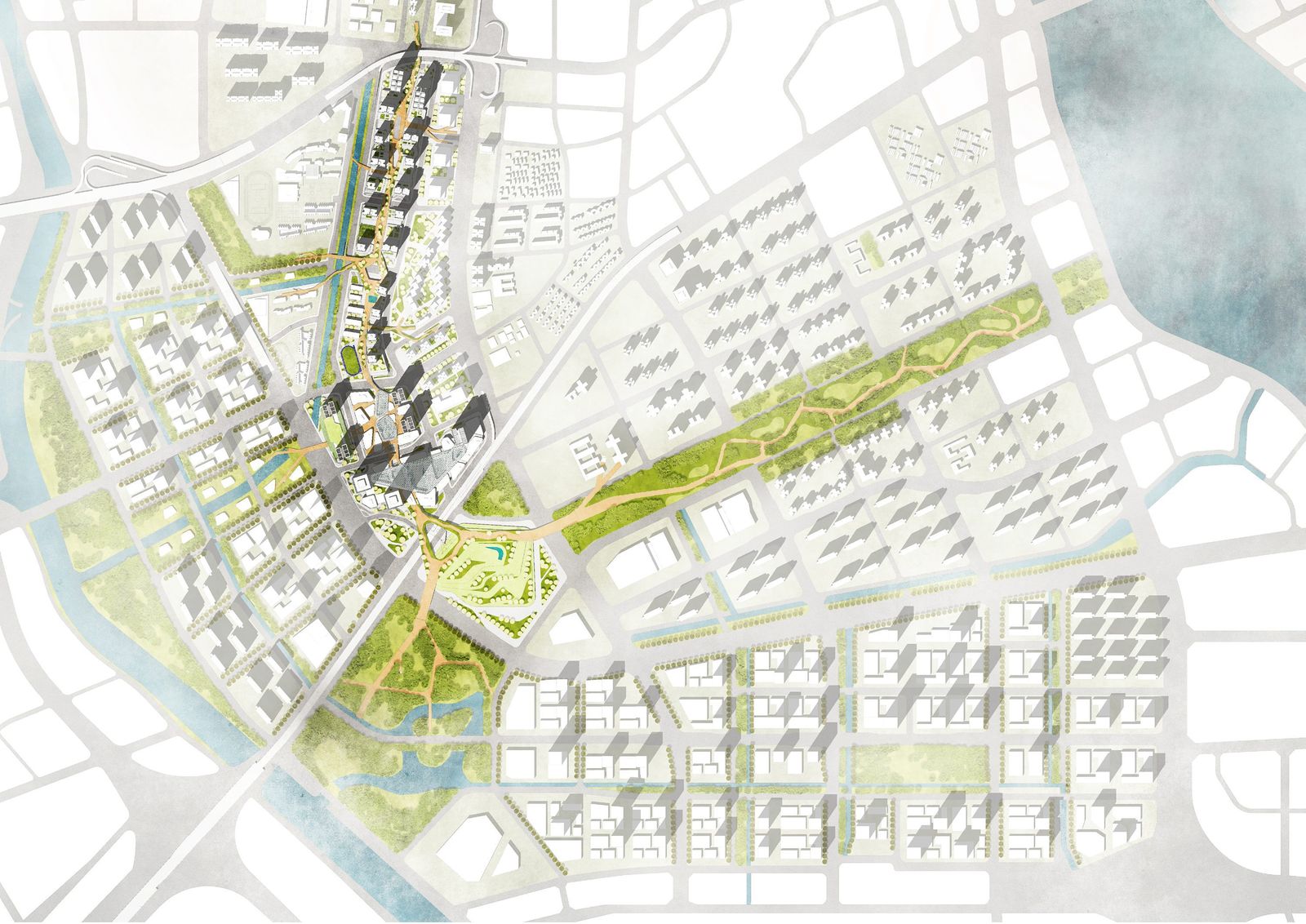 The 160 hectare site will support a mixed urban development that includes the interchange for four Underground lines, commercial facilities, and a boulevard with 24 high rise office, hotel, and residential buildings with heights between 80 and 324 meters. From here, the area continues with generous parks that will create a green belt between the two rivers Huadi in the west and Zhujiang in the east.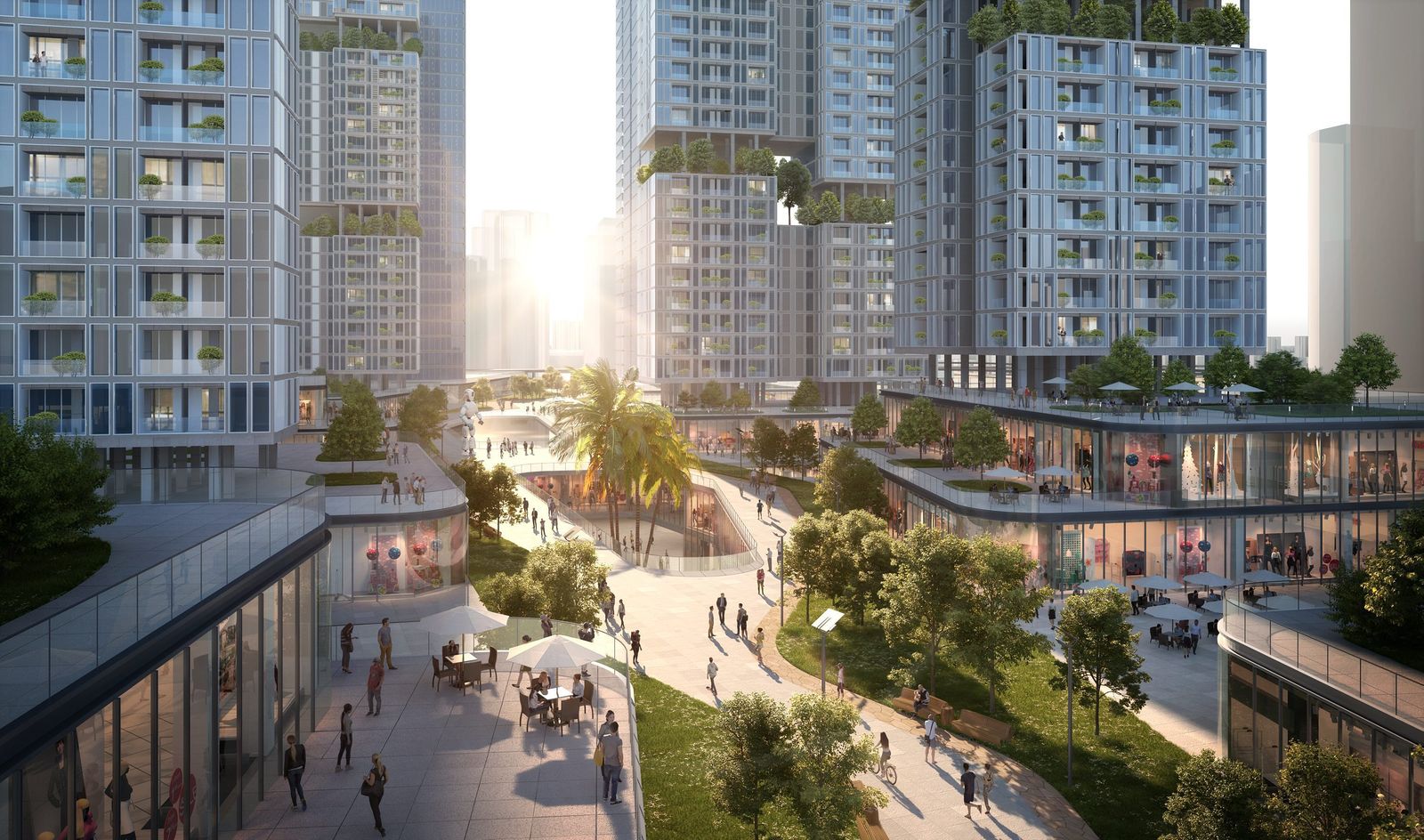 The design concept for this urban and landscape masterplan was inspired by the structure of the Banyan tree, a species commonly found in Guangzhou. Similar to the densely interwoven branches and roots of that tree, a raised pedestrian boulevard holds the area together as one organic unit, stretching from north to south for about a kilometer and a half. This system of pathways extends into the neighboring city areas, providing access points with escalators and elevators. The ribbon of leisure and park areas follows the Underground lines and is flanked on both sides by high-rise buildings. The dynamic shape of the boulevard continues in the wave-shaped skyline of the buildings. Lower residential tower blocks of varying heights are placed between the two high-rise office towers at the northern and southern ends.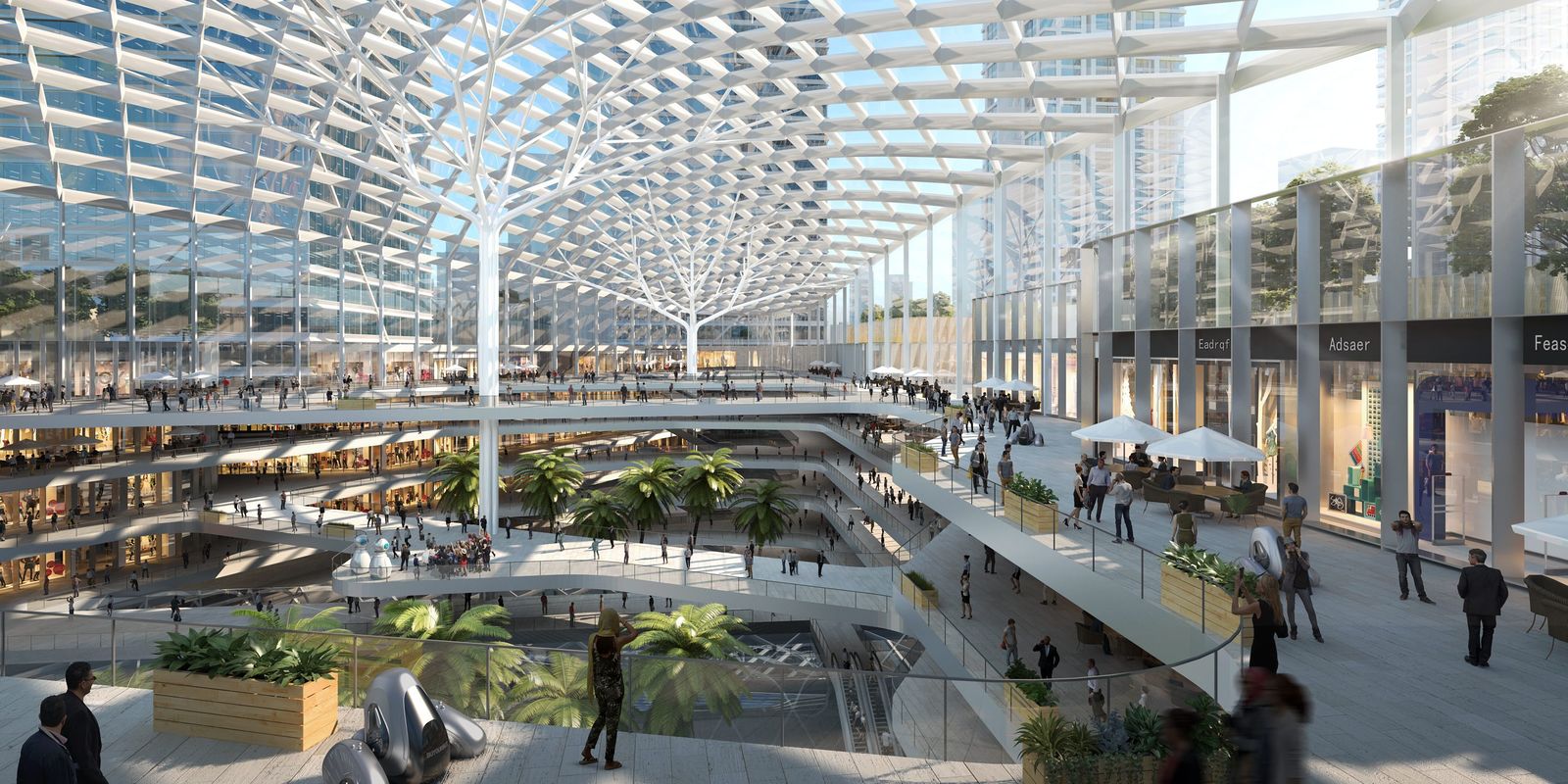 The highlight of the new urban quarter is the atrium above the Underground interchange station with its three conspicuous towers that define the triangular shape. The large hall, which in some parts is six stories high, extends downwards to the second subfloor. It functions as a hinge between the different public spaces. The large curved glass structure above the atrium ensures that natural light can reach deep inside, down to the subfloors. It also makes it possible to see the sky and the high-rise buildings in the vicinity. One of the train lines runs through the atrium in a glass tube that is constructed as a network structure – an attraction that is integrated in the commercial areas. The movement of pedestrian traffic continues in the vertical: entrances and lobbies provide access to the three towers, where landscaped "sky gardens" create attractive open air recreation areas high above ground.