Jun. 26, 2020
Favored design option―New buildings for Städtische Bühnen, Frankfurt am Main
The results of a feasibility study produced by Architects von Gerkan, Marg and Partners (gmp) in cooperation with pfp planungs gmbh for the Secretariat of Culture of the city of Frankfurt am Main are currently displayed at the DAM (German Architecture Museum) in Frankfurt. The study focuses on the examination of four new building scenarios for the opera house and theater of the city at different locations along Frankfurt's Wallanlagen. Amongst the two versions explored by gmp is the "culture mile", which is the scenario favored by Secretary of Culture Dr. Ina Hartwig.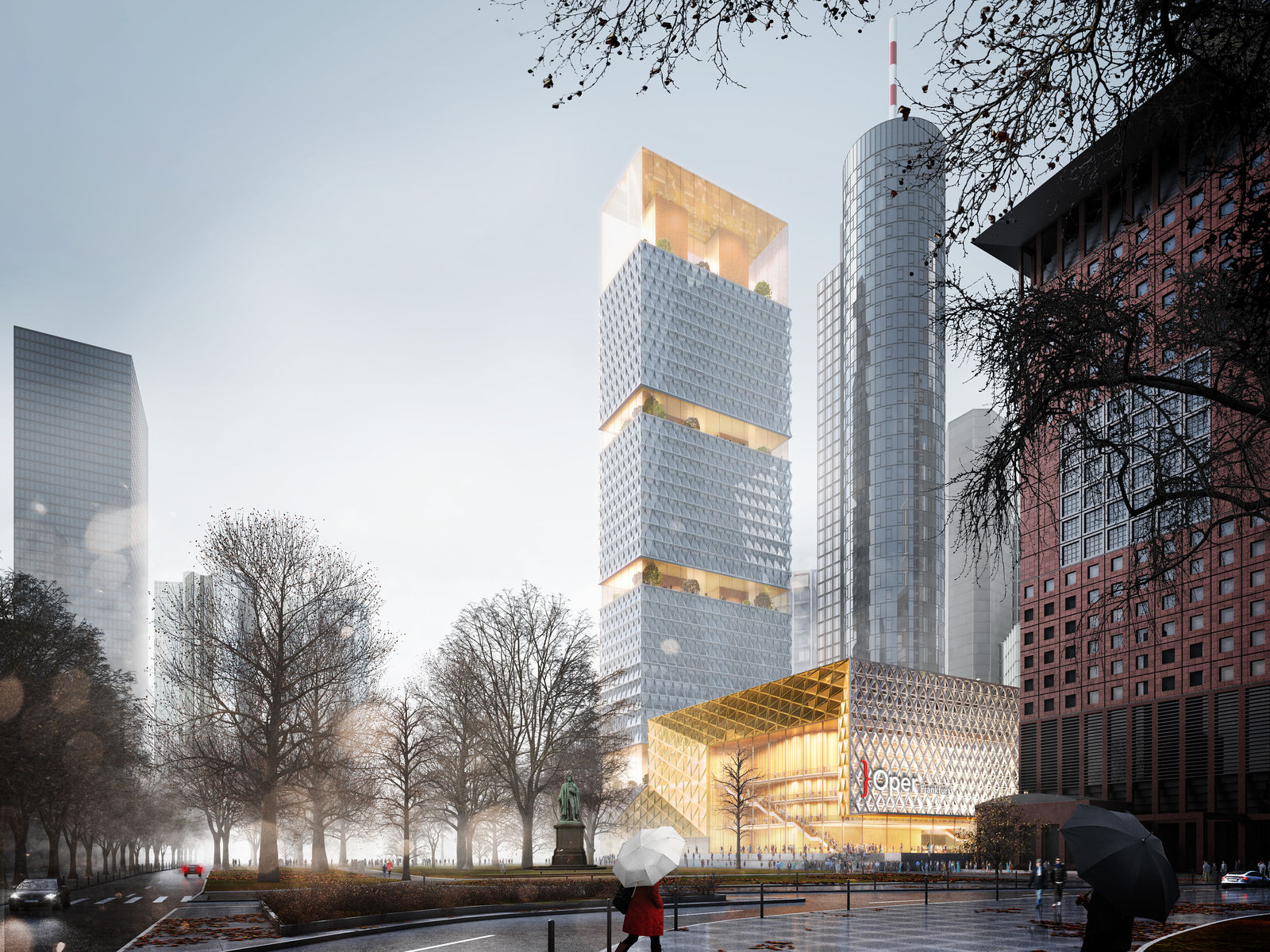 In option 1 ("mirror solution") the opera house remains at its current location, whereas the theater is placed on the opposite side at Willy-Brandt-Platz. Here the new buildings of the opera house and theater mirror each other, albeit offset, within the green belt of the Wallanlagen.
The favored option 2 ("culture mile") places the new opera house about 350 meters to the north of the current location at Neue Mainzer Strasse. The plinth area is reserved for the opera function itself, with the foyer opening out to the Wallanlagen and to Neue Mainzer Strasse, whereas the high-rise stories are intended for office use. At Willy-Brandt-Platz a new building is created for the theater, which is positioned to create a green thoroughfare to the banks of the River Main, a "culture mile" running from the Jewish Museum at Untermainkai to the Alte Oper opera house. "An alignment of cultural institutions along the high-rise buildings―that doesn't exist anywhere, but where should it be possible if not in Frankfurt?" explains gmp Partner Stephan Schütz.
The implementation of option 2 has advantages beyond those of the urban and conceptual design benefits, because it means that the existing building can continue to be used until the completion of the new opera house and thus avoids the cost of providing interim accommodation.
In the HR Info podcast on June 24, 2020, Ina Hartwig commented on option 2: "This option with an opera house at Neue Mainzer Strasse and a new theater at Willy-Brandt-Platz―I find this particularly attractive for Frankfurt, because it also creates the unique opportunity to continue the development of the Wallanlagen and literally create a culture mile. I believe that we should pursue this triad of the Wallanlagen, i.e. green space, high-rise buildings that are so specific to our city, and cultural buildings."