May 25, 2020
Competition won for Nanchang Eastern Railway Station, China
Nanchang, a metropolis with about five million inhabitants located at the southern bank of the Poyang Lake in central China, will be given a new railway station to a design by Architects von Gerkan, Marg and Partners (gmp). The city is currently undertaking large-scale urban developments outside the historic core of the city. The railway station is part of a new area to the east of Nanchang that is being developed in accordance with the TOD (transport-oriented development) principles, and will feature high-quality office space amongst other facilities. The site is located at the end of Guangzhou Road, an inner-city axis, and is oriented from east to west. Owing to the site's favorable position at an intersection of two important transregional railway lines, the station will give access to rail services from Nanchang to Beijing and Guangzhou in the north and south, and to Chengdu and Shanghai in the west and east.

The concept of the Nanchang Eastern Railway Station is that of a fourth-generation station. This generation is characterized by the principle of an "urban living room", as well as by a high degree of intermodality, interlinking different modes of transport. In China it is the custom that railway stations can only be accessed with a valid ticket. In the "urban living room", the retail and gastronomy areas will be open to the public and therefore will enhance the station's enlivening effect on the neighborhood. Owing to its position at the eastern edge of the city and the expected streams of passengers predominantly from one direction, the GTC (ground traffic center) model of modern airports will be adopted for the station's infrastructure. In order to minimize distances for passengers and reduce changeover times, public modes of transport and the waiting and arrival zones of the railway will be vertically layered.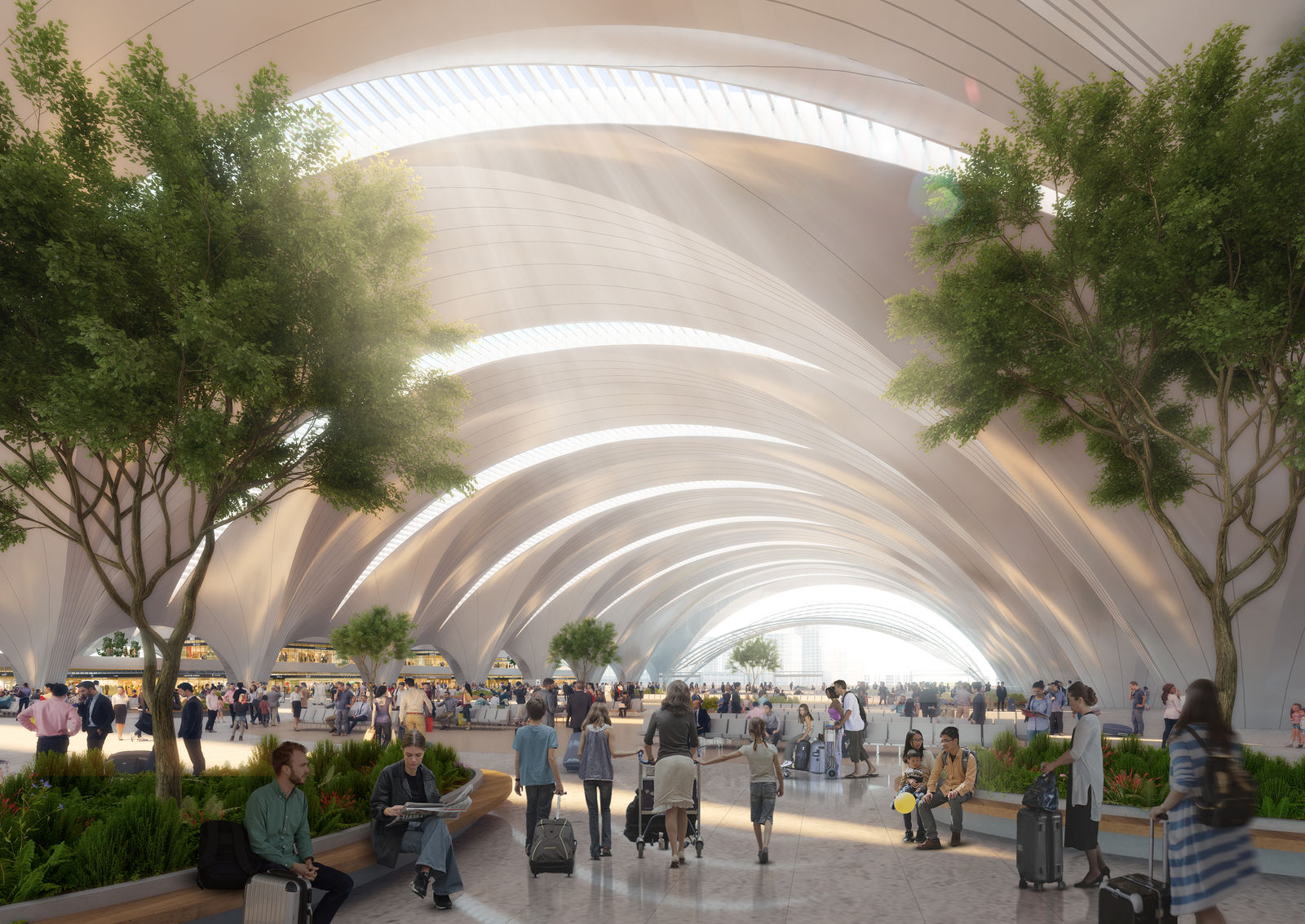 A conspicuous characteristic of the design is the loadbearing structure of the roof in the shape of several arcs of different radii; this contributes significantly to the station's visual presence as seen from the west and the city. The central arc covers a 96-meter-wide space without columns that accommodates the waiting hall. On the inside, the overall design concept of the exterior continues - light openings set in a pattern that reflects the arc structure funnel daylight into the waiting hall. The railway station will have an area of 100,000 square meters and contain eight platforms serving 16 tracks.