Apr. 01, 2020
Completion of Display Center at China Mobile's South Base, Guangzhou, China
With the Display Center, the last and most important component of China Mobile's South Base, the implementation phase of the new headquarters of China Mobile is complete. Before this project the architects von Gerkan, Marg and Partners (gmp) had already completed several office buildings, server halls, call centers, and a conference precinct with connected hotel, a boarding house, and "Bürovillas" for China's largest telecommunications company on the campus in Guangzhou.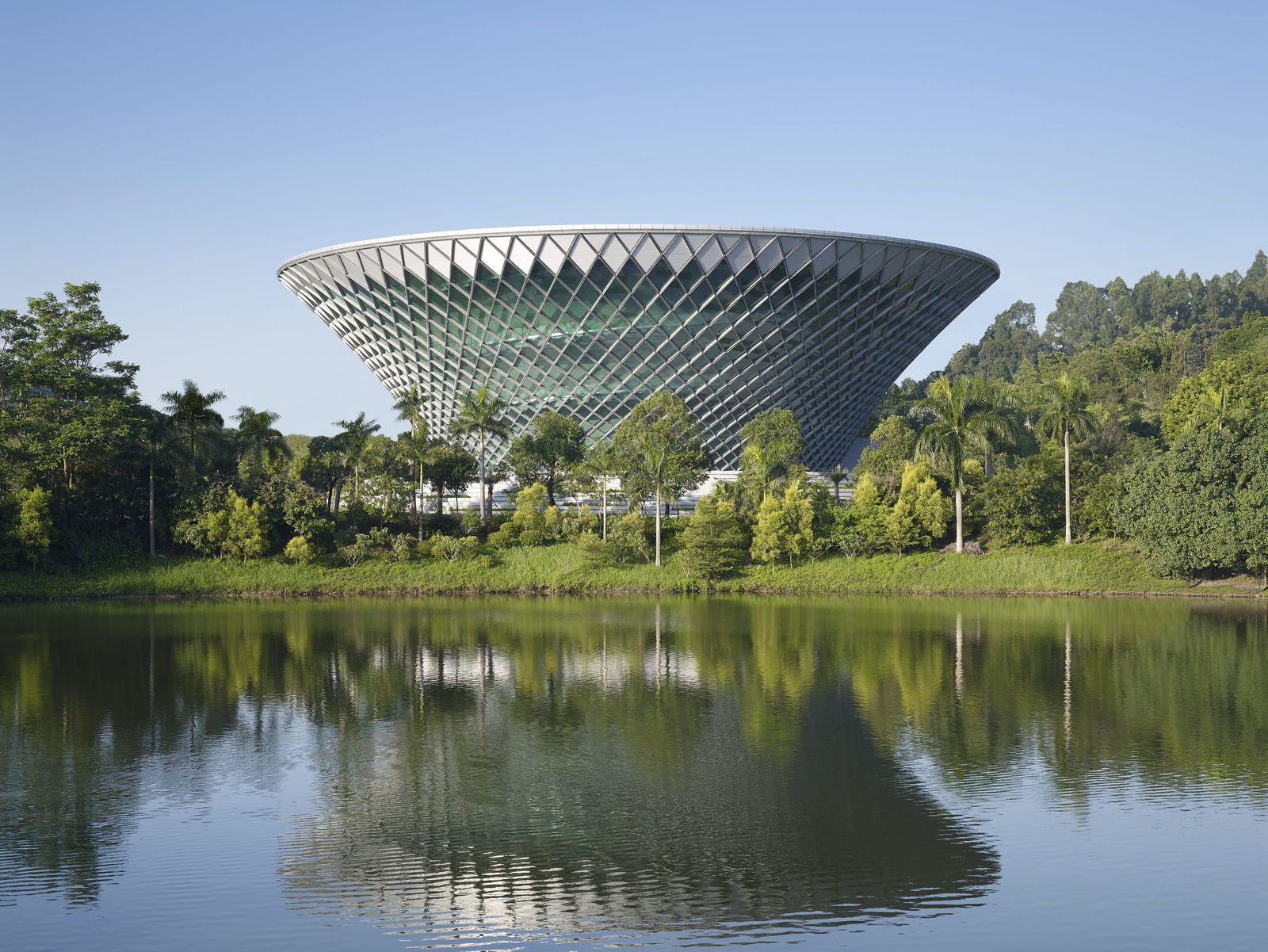 Inside the Display Center, the core of the entire facility, is the control center for network activities. The circular hall, which extends over several stories, provides space for a large wall decked out with monitors, from where the operation of the facility and the telecommunication network are controlled. The shape of the building is a half-hyperboloid, the design of which was inspired by a lotus flower that opens up towards heaven. In order to achieve this effect, its diameter increases from the bottom to the top from 45 m to 80 m. The complex glazed facade was devised in cooperation with WSI, Werner Sobek Ingenieure, and consists of a great number of planar rhombic elements that are offset against each other and that increase in size. Between the facade and the loadbearing inner reinforced concrete shell, prestigious ramps rotate through the entire height of 22 m. They provide changing views of the surroundings, terminating at a viewing platform with an all-round view of the entire South Base.
In recognition of its importance, the Display Center was placed centrally at a curved boulevard along which all the other campus buildings are aligned like a string of pearls. This urban design configuration is the linking element between the northern and southern developments and runs across the entire site, which is bordered directly by a wooded, hilly landscape and transitions into a flat park landscape dotted with lakes. In the lake area the boulevard appears as a planted landscape bridge.