Dec. 04, 2019
gmp refurbishes protected shell building by Ulrich Müther
The Hyparschale building in Magdeburg at the eastern bank of the River Elbe, which dates from 1969, is one of about fifty shell buildings by Ulrich Müther that are still in existence. Having stood empty for over 20 years, the refurbishment of the building in line with monument preservation guidelines is now starting to a design by gmp. The focus is on reviving the structure as an events and exhibition venue, as well as overhauling and repairing the concrete shell roof, which will once again bring to life the spatial effect of this hall with its column-free construction.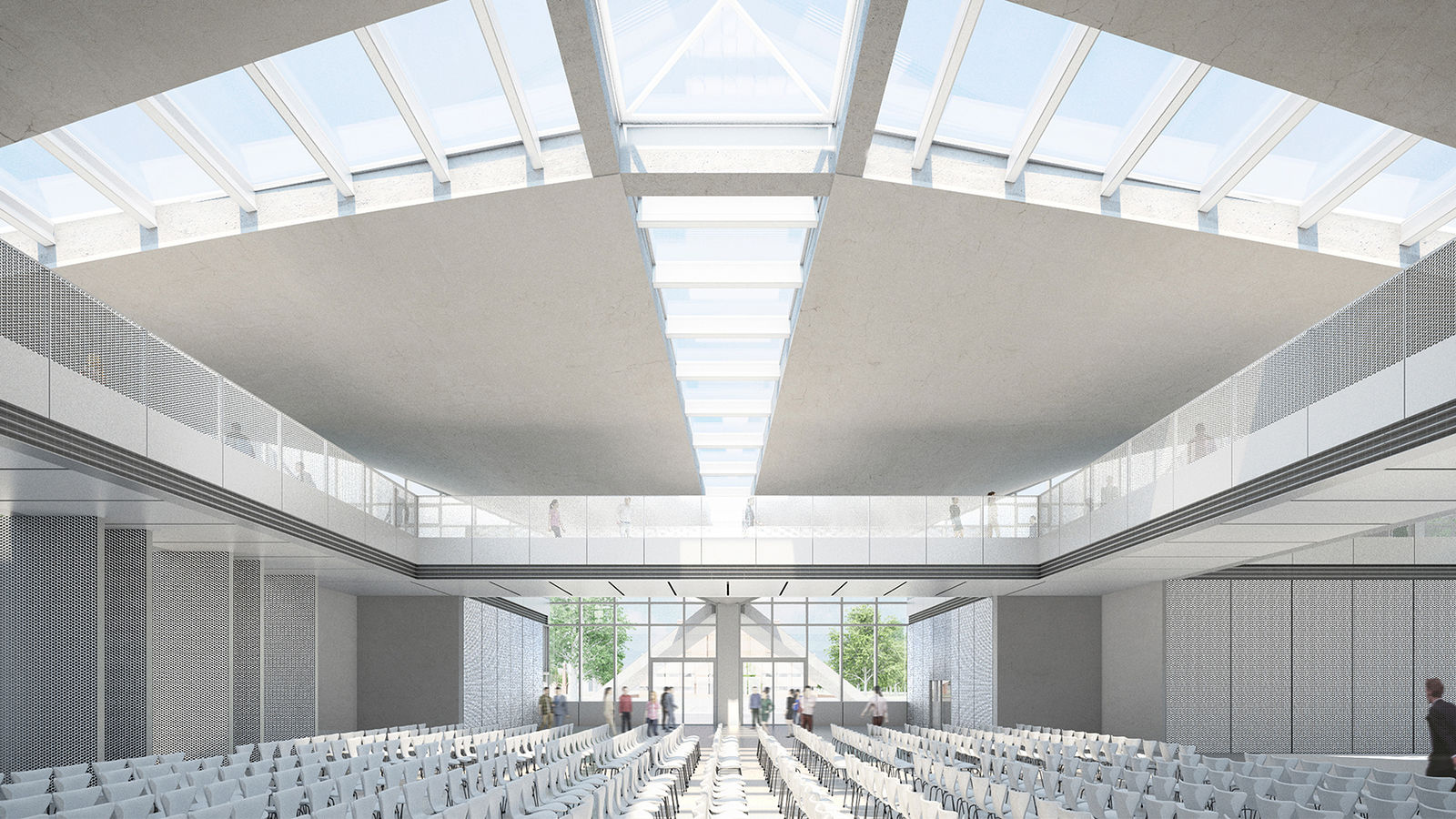 gmp's design for the shell building aims to revive the multifunctional hall, which has not been used since 1997 and is badly dilapidated, to recreate a multifunctional events and exhibition venue. The project is aimed at strengthening the ensemble of the Hyparschale and the City Hall, as well as re-establishing the interior spatial effect of the shell roof. Müther's design for the concrete roof consists of four hyperbolic paraboloids. The regular doubly-curved roof surfaces cover an area of 48 x 48 meters without any columns inside the hall. As part of the refurbishment, the loadbearing capacity of the roof will be re-established and even increased with the help of carbon concrete.
In addition, the rooflights running crosswise between the shells will be reopened. These fenestration bands emphasize the shape of the shells and provide optimum lighting to the center of the hall; newly inserted gallery levels and walk-on bridges make it possible to use and experience the open space with its curved roof in many different ways. The interior steel constructions and facades are reminiscent of the original external facade with its vertical emphasis and industrial steel and glass materials. The former translucent industrial glazing is replaced by a transparent glass facade, with the original facade construction being retained.