Mar. 09, 2023
Lab 2050
The aac spring workshop focused on the future of construction
Construction uses more resources than any other industry on earth. We therefore have a huge responsibility to create buildings that are sustainable and flexibly usable over the long term. How can we build climate-efficient buildings that also meet high design standards? The aac scholarship students focused on this pressing question in the context of a site at the future Elbbrücken approach to the city of Hamburg. The brief was to develop designs that use resources as carefully as possible by choosing recycling-oriented construction and appropriate materials, where possible re-used (e.g. from urban mining). The workshop was headed up by gmp partners Stephan Schütz and Nikolaus Goetze.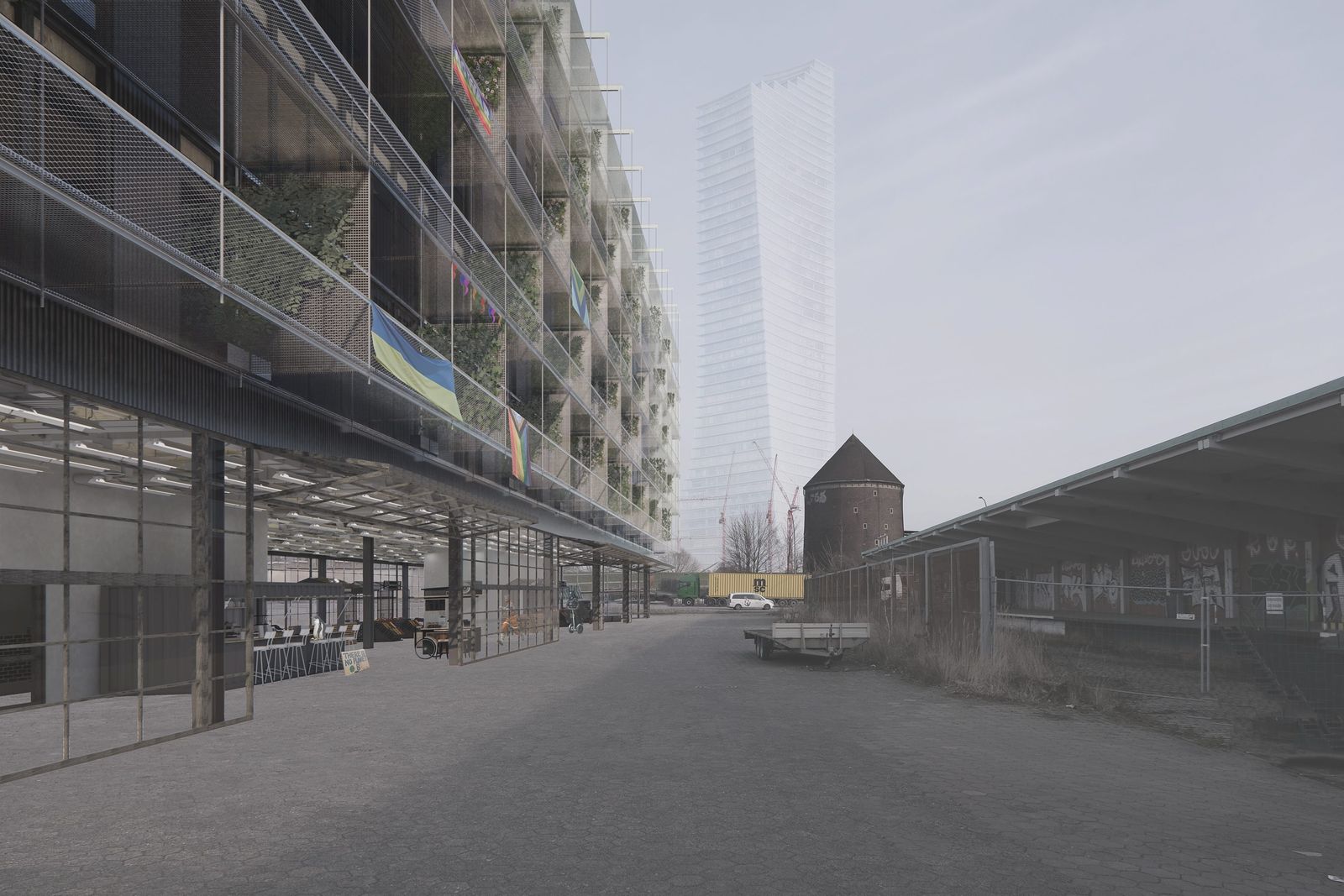 The workshop started in Hamburg with two input days. The scholarship students had a closer look at the quarter of Veddel and the planned site and, during a material workshop, studied the properties, effects, and CO2 footprints of various building materials and construction methods. Additional information was disseminated in lectures. The objective: all design elements that are quantifiable in terms of their sustainability were to be analyzed and evaluated, with the aim being to be able to make generally applicable statements relevant to future designs.
To this end, each of the four groups designed a basic architectural blueprint for a free-standing, functional, and flexible building that involves careful use of resources and that can be dismantled again if required. Well-known aac tutors were on hand to support the students. The comprehensive teaching program was rounded off with lectures and critique sessions with Werner Sobek and Alexandra Mrzigod of Werner Sobek AG, Tilmann Jarmer of Florian Nagler Architects, Volkwin Marg of gmp Architects, and Robert Schmitz of White Arkitekter.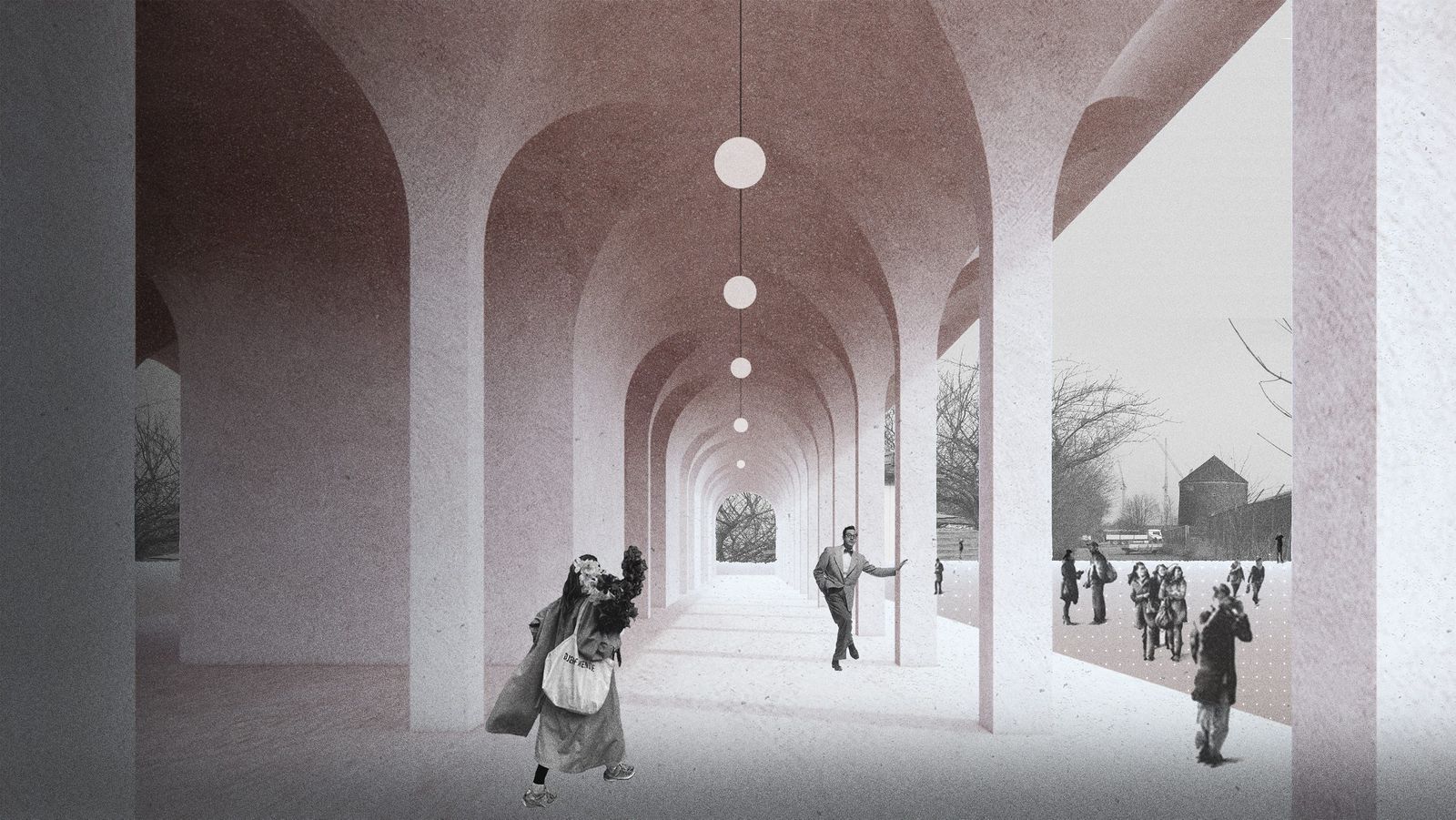 Each of the four groups was assigned a different building material, the use of which requires specific design decisions regarding construction and the esthetic aspect of the building. The brief called for materials that can be used for both offices and residential buildings. By comparing them, the differences in the CO2 balance resulting from the design decisions were to be identified. The emphasis was on four materials: timber and grass fibers, concrete, metal, and masonry. Other materials were added where the designs employed hybrid construction systems.
The first floor of the building, which stands in a prominent location, is used by all four groups for community-related functions. This corresponds to the use of the historic customs processing halls in the neighborhood, which are used for public functions. The upper floors can be flexibly used as offices or for housing. The buildings' materials determine their character and are used to develop sound insulation details that can cope with the challenge presented by noise pollution in the area. The results of the workshop are currently available to view in an exhibition at the aac studios on the Rainvilleterrasse Campus.
Opening period Until March 17, 2023
Opening times Monday to Friday, 10 am – 4 pm
Workshop Lead Dipl.-Ing. Architect Stephan Schütz and Dipl.-Ing. Architect Nikolaus Goetze with Dipl.-Ing. Architect Nicolas Pomränke
aac Team Enno N. Maass, Annika Göttle, Anja Meding, Gabriela Hopf
Tutors (in alphabetical order) Walter Gebhardt, Annika Göttle, Prof. Philipp Kamps, Sona Kazemi, Anja Meding, Alexandra Mrzigod
Scholarship Students (in alphabetical order) Daria Behrens, Blanca Borrell Araúz de Robles, Martin Bumbál, Nikolai Davydov, Gordian Graf Strachwitz, Vitaliya Grigorenko, Paul Gumpricht, Xing Hua, Dije Këqiku, Sânziana Maximeasa, Malgorzata Migut, Lorenzo Scheibner, Zeynep Çağla Topcu, Juan Sebastián Vintimilla Ochoa, Sonja Walzik, Anika Wieger