Nov. 17, 2021
Elbbrücken City Approach
Hamburg's Senate votes to implement gmp masterplan
After more than two years of intense planning and public discussion, the Senate of the Free and Hanseatic City of Hamburg has adopted the masterplan for the Elbbrücken city approach. The design by architects von Gerkan, Marg and Partners (gmp) in cooperation with WES LandschaftsArchitektur and Hager Landscape Architects lays out an overlapping future plan for the approx. 80 hectare area that extends from Veddel to the north through to Rothenburgsort in the west and Hammerbrook to the south.
Hitherto, the urban space around the Elbbrücken bridges had been perceived as a very busy transit space, which did not really do justice to its importance in terms of urban design, architecture, and function as a city approach. The objective of the trial planning process organized in 2019 with six European design teams was therefore to significantly enhance the potential of the city approach, and to elevate the currently heavily fragmented surroundings around Billhorner Brückenstraße as an important and clearly defined entrance to the city of Hamburg, whilst also creating an appropriate transition between the different urban environments.
Citizens were able to contribute their suggestions during two city workshops, as well as by other means. Following gmp's successful participation in the trial planning process, the practice was commissioned with the detailed design of the masterplan and local plans.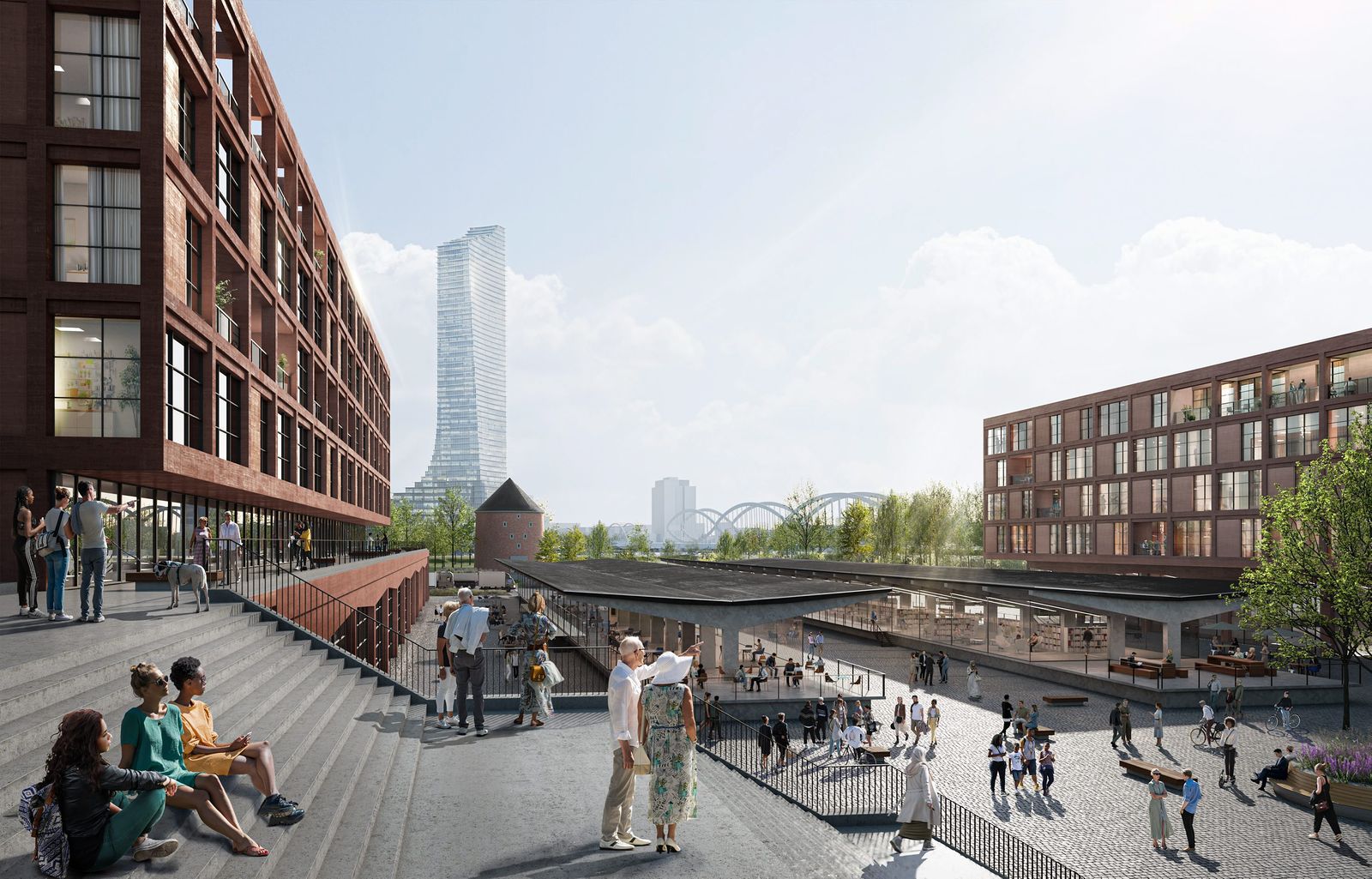 The masterplan for the area now approved by the Senate forms the basis for further urban development. The proposal by gmp, WES, and Hager involves a logical continuation of the historically evolved urban structure. The basic structure is derived from the geographic details of the different areas; symbolic buildings around the currently unused listed customs halls on Veddel Island will form a closer connection to the River Elbe and also ensure that the island and its neighborhood can be clearly seen, both from the motorway and the northern bank of the Elbe. New development at the edge of Rothenburgsort will create a more succinct separation from Billhorner Brückenstraße. Closed block structures are used to increase the urban density and to underscore the proximity of Rothenburgsort to the inner city. The development will create a compact urban neighborhood, reinterpreting the original density of the quarter. The pedestrian pathways between Rothenburgsort, HafenCity, Veddel, Grasbrook, the parks, and the water will be enhanced and extended. In addition, access to the River Bille is improved, thereby making this landscape element a more vibrant part of the neighborhood.