Nov. 11, 2020
New bridge at Hamburg's entrance
gmp and sbp win competition for pedestrian and cycle bridge
The HafenCity and Rothenburgsort districts move closer together. As part of the scheme for the new Elbbrücken city entrance and the development of the Billebogen area, the districts―which hitherto have been separated by watercourses and transport routes―are to be better connected. A start is made with the planned new bridge: in future, the pedestrian and cycle bridge is to connect the urban Elbbrücken quarter in the eastern part of HafenCity with the green Entenwerder peninsula. In the closed interdisciplinary design competition for engineers and architects, the submission by von Gerkan, Marg and Partners Architects (gmp) and schlaich bergermann partner (sbp) impressed the jury.
With a dynamic gesture, the new bridge will span the Oberhafen canal that flows into the Elbe here. The 135-meter-long, slightly curved structure seamlessly continues the Elbe cycle path that runs along the southern bank of Entenwerder peninsula, making the route an intuitive choice. With this bridge, a continuous cycle connection will be created from Hamburg's inner city to Vier- and Marschlande. In addition, the residents of Rothenburgsort will, for the first time, have a direct route to the Elbbrücken underground and overground station, which was also designed by gmp in cooperation with sbp. In the opposite direction, the future inhabitants and employees of the district and the Elbtower will benefit from direct access to the 13-hectare Entenwerder local recreation area.


Being located directly adjacent to Hamburg's Elbbrücken bridges with their large metal arches, the design by gmp and sbp appeals with its restraint and elegant lines. The steel box beam of the bridge features a haunched cross section and is supported from two slender concrete support slabs with a clear span of 75 meters between the supports, thus enabling ships to pass as they sail between the Elbe and the Oberhafen canal. The slender silhouette of the bridge with its V-shaped geometry at the supports is a distinguishing feature. The clear width of about six meters provides enough space for a pedestrian path and cycle paths in two directions. An LED lighting strip incorporated in the handrail provides continuous lighting along the bridge, which means that the curvature can also be seen in the dark. The restrained illumination, which can also be dimmed, takes account of the nearby natural environment and of the need to protect wildlife. Construction is due to begin in 2022.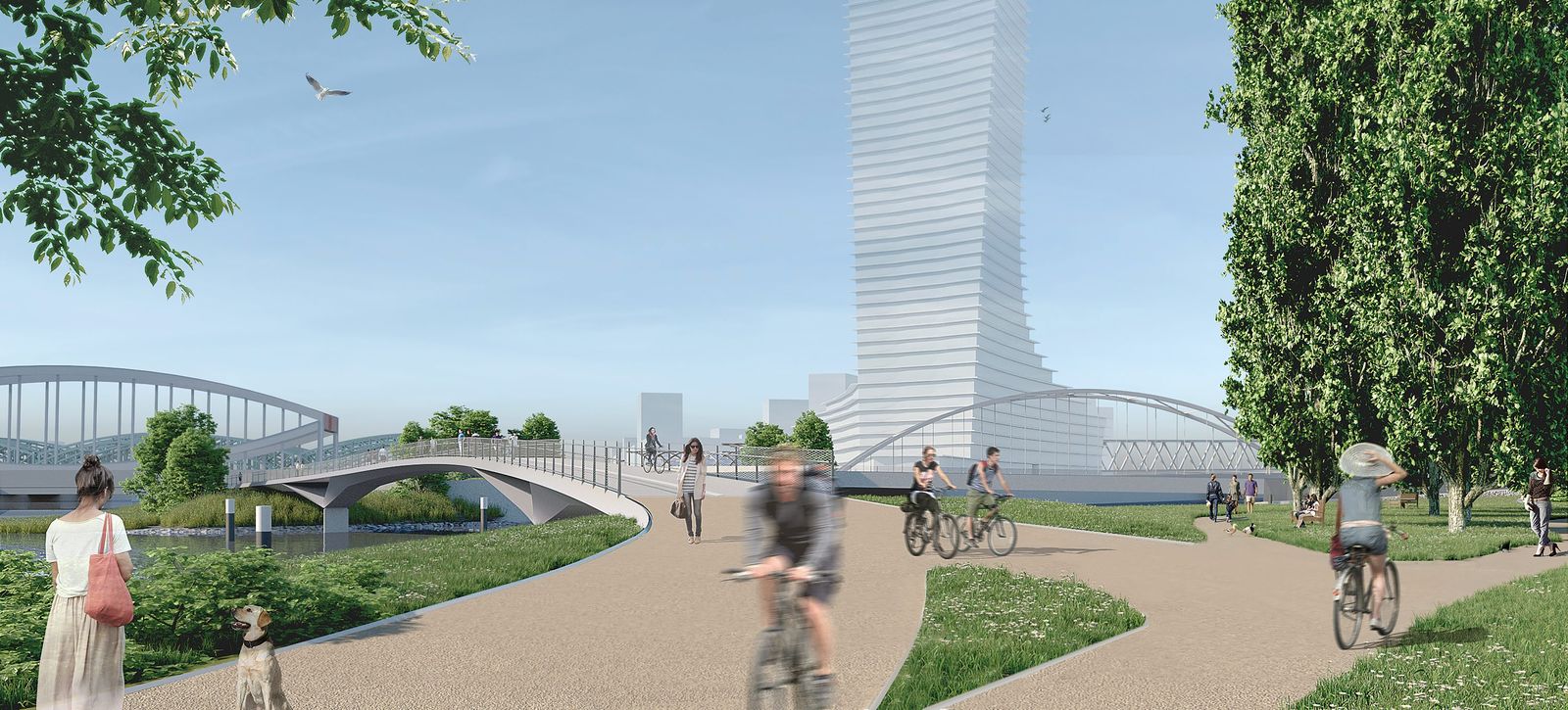 gmp and sbp–a success story:
The architects of gmp and the engineers of sbp share decades of experience working on numerous projects. Amongst the many stadiums for UEFA and FIFA World Cups, the two practices have jointly completed the new roof for the Olympic Stadium in Berlin as well as stadiums in Europe, Africa, Brazil, and China. In Hamburg they have completed the elegant glass roof covering the courtyard of the Museum for Hamburg History and the Elbbrücken underground and overground station.