Jul. 28, 2020
A new center
gmp wins competition for Glashütte school campus in Norderstedt
In future, the new Glashütte school campus in Norderstedt will combine the Lise-Meitner high school and the Ossenmoorpark community school in a new development. The jury of the architectural competition was unanimous in awarding 1st prize to Architects von Gerkan, Marg and Partners in cooperation with WES GmbH LandschaftsArchitektur for their design, which was one of 13 submissions.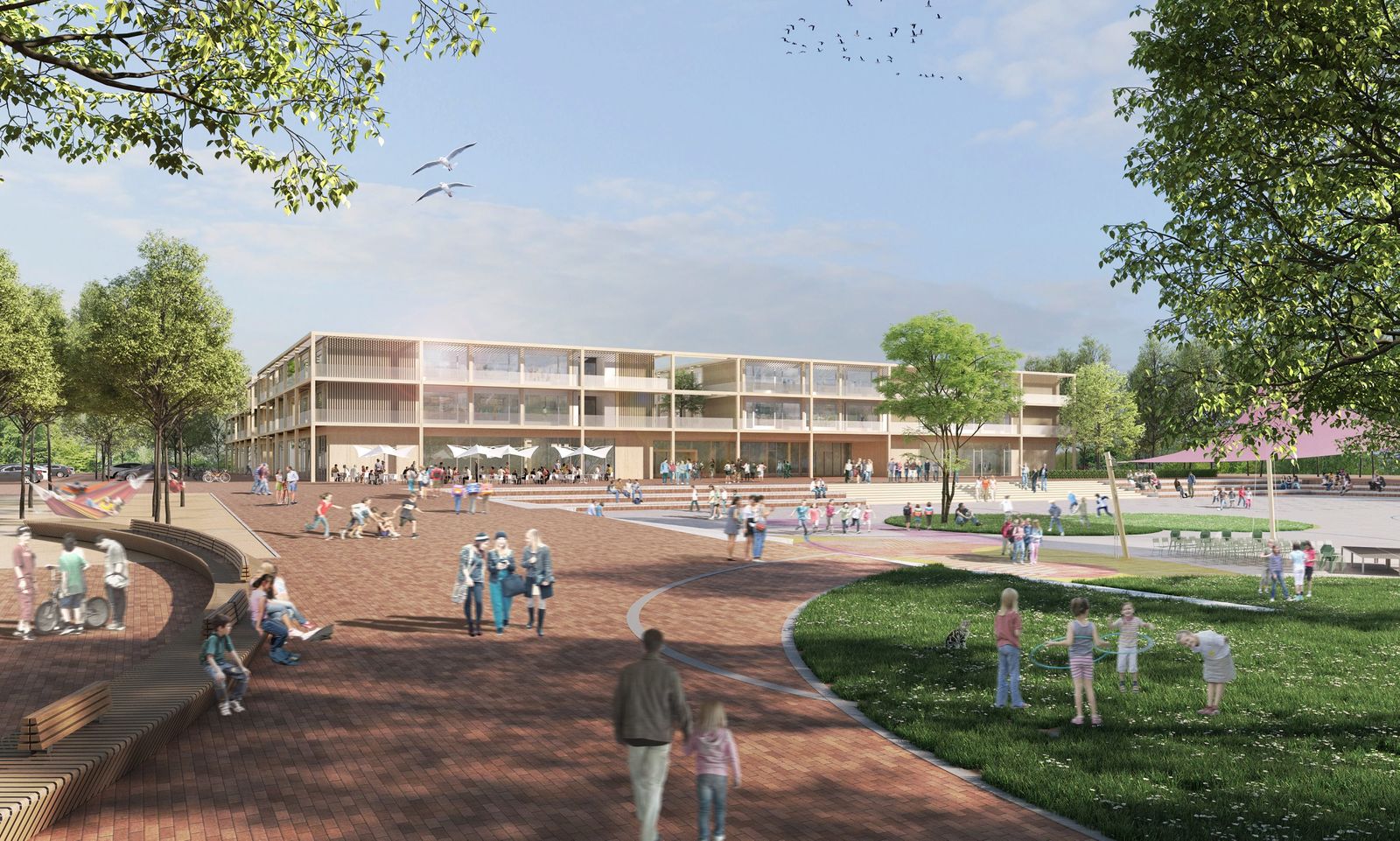 In addition to the high school with four parallel classes and the community school with three parallel classes for a total of about 1,200 students, the design includes a local city library, a youth center with assembly hall, and two sports halls with three ball game facilities each. In the heterogeneous urban fabric of Norderstedt, the clear urban positioning of the development with its school, sports halls, and assembly hall defines a succinct center that has been conceived of as public urban space. Embedded in the green corridor of Ossenmoor Park, the campus site is intended to function as a key leisure site for the inhabitants of the Glashütte district which, with its wide spectrum of activities, appeals to all age groups. Free access to the public will be available to the pitches for beach volleyball, basketball, and football, and there will be a workout area, parks, and a chill-out grove with hammocks and randomly placed chairs for people to relax and enjoy themselves.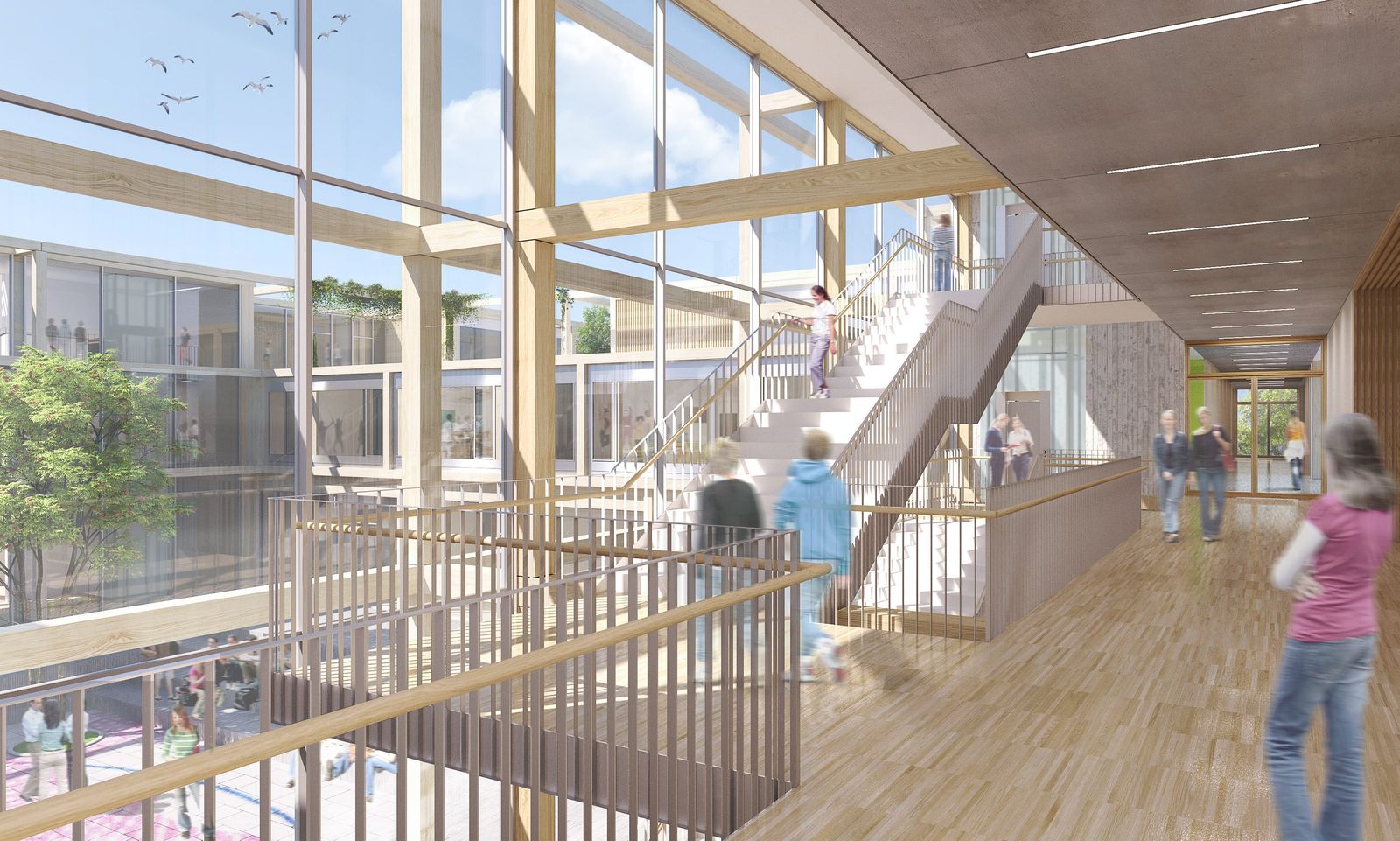 The shared inner courtyard of the new development creates a meeting point for all students and teachers of both schools. In terms of spatial arrangement, the high school and the community school are separated on the upper floors and are accessed via two separate light-flooded stairwells; both schools are clearly organized in distinct year clusters. The shared educational areas such as science rooms, workshops, and craft classrooms, as well as the schools' offices, are located between the two schools. From the central foyer there is direct access for all students to the café (open during break times), a wholefood shop, the public library, and the refectory.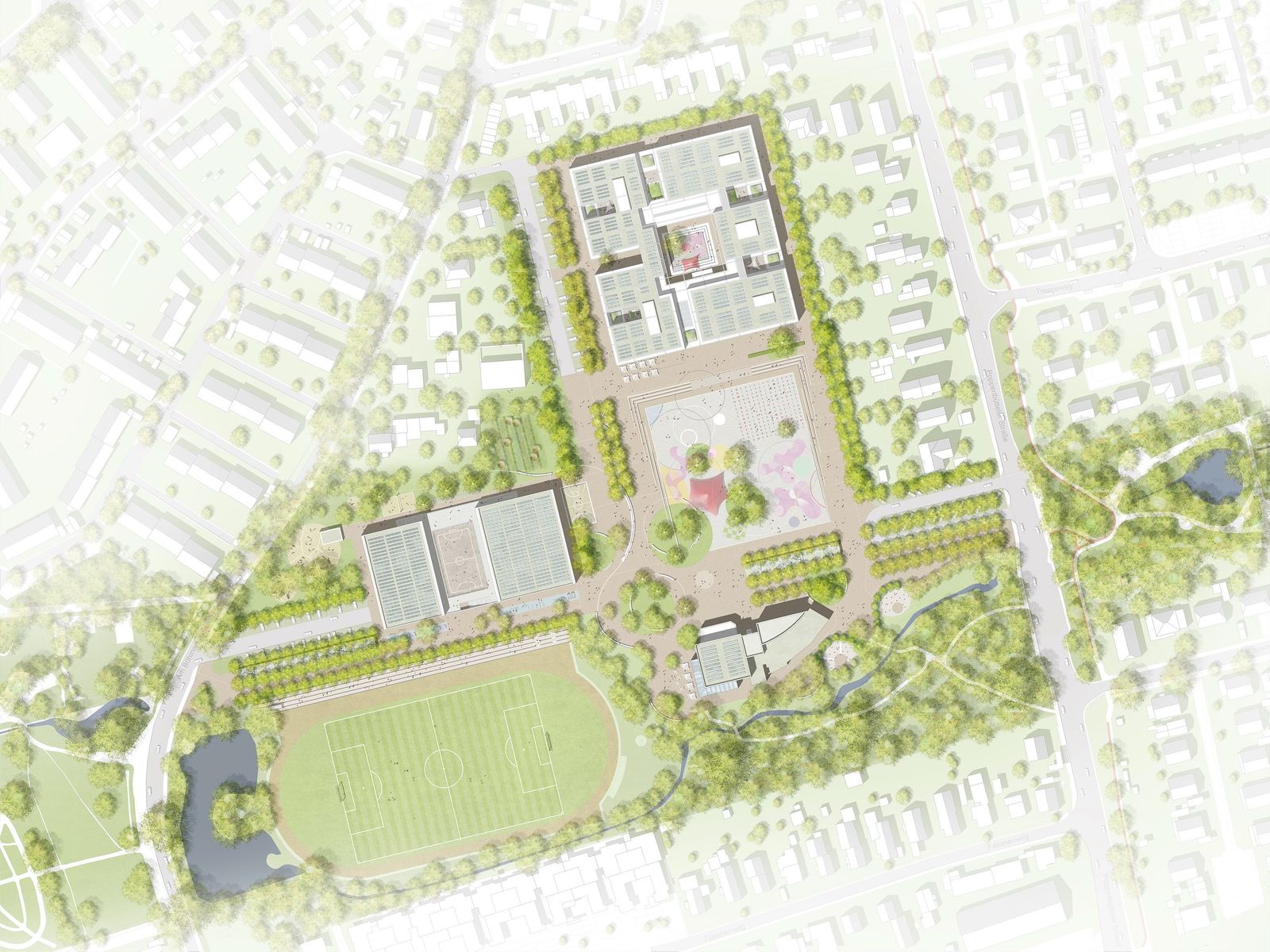 The compact design of the buildings favors low energy consumption as well as economic construction and maintenance of the school campus. The planned supporting framework consists of a timber hybrid skeleton construction. The combination of timber and reinforced concrete components creates a loadbearing structure that is highly efficient, economical, and flexible. The interior design emphasizes authentic materials such as wood, concrete, and steel. Completion has been scheduled for the end of 2024.