Apr. 08, 2020
Library and archive at Tianjin Eco-City
"Sino-Singapore Friendship Library" by gmp sets the stage for the new culture precinct
With the "Sino-Singapore Tianjin Eco-City", an ecologically designed urban development for 350,000 inhabitants will be created to the west of Tianjin, the Chinese port city, by 2025. The cooperative project of the governments of China and Singapore is divided into an area for offices, one for housing, and one at the Gu Dao River for cultural functions. The "Sino-Singapore Friendship Library" designed by architects von Gerkan, Marg and Partners (gmp) is a library as well as various archives under one roof, and the first building to be completed in the culture precinct.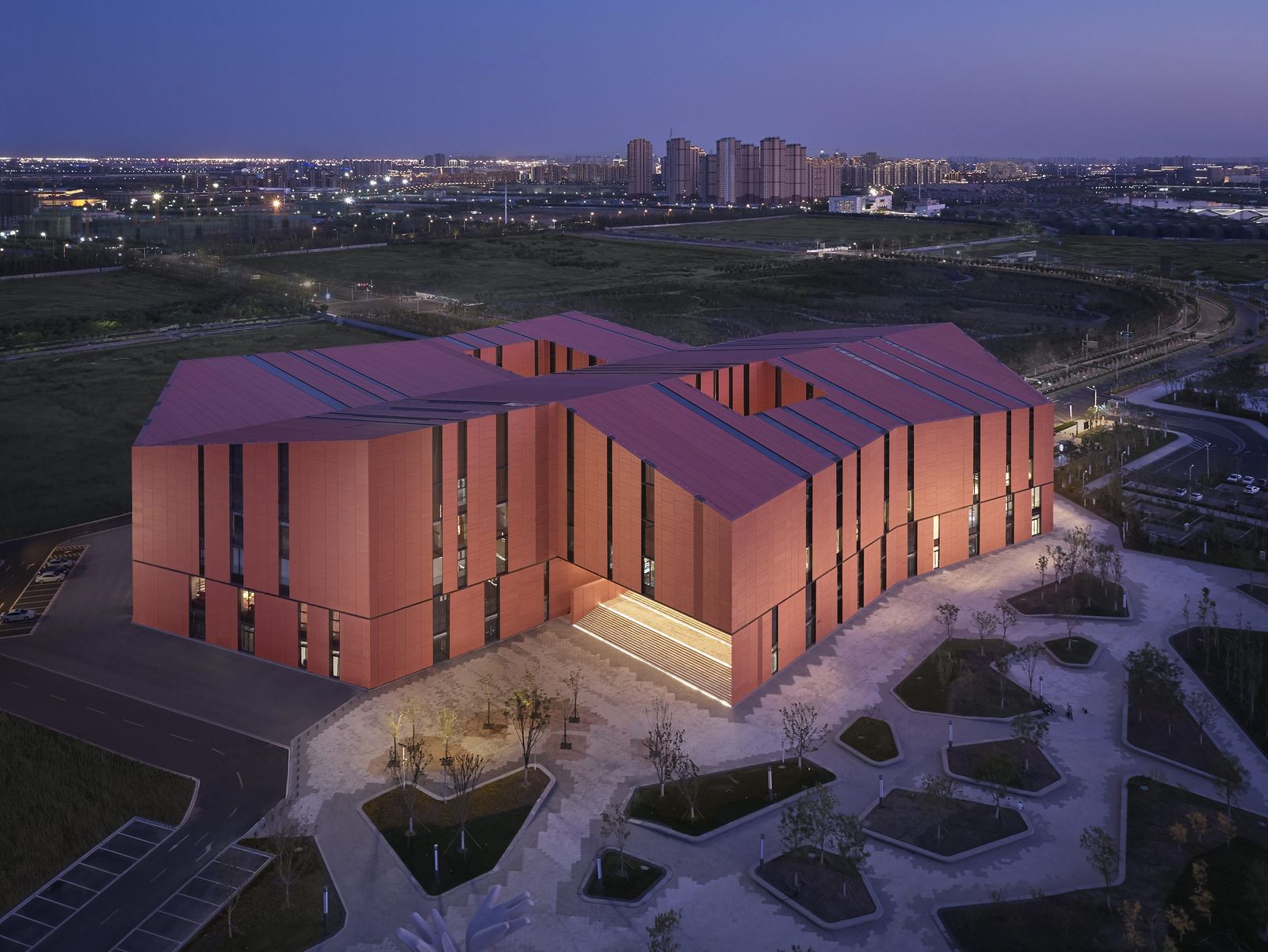 The design takes into account the particular position of the site between the natural bank zone to the east and the future city landscape to the west. Nevertheless, the sculpturally folded freestanding building features the same facade design on both sides: the reddish building envelope consisting of glass-fiber-reinforced curtain wall elements generates a uniform appearance of the building. The vertically oriented, irregularly offset facade grid with the integrated fenestration bands is continued as the "fifth facade" on the roof, thereby reinforcing the uniform appearance on all sides of the five-story building. At the same time, this creates optimized indirect lighting for the interior. At night time light strips fitted along the joints emphasize the vertical structure while also defining the shape of the building.
Large open staircases on both sides of the building, facing the bank and the city, lead to the entrances at the two inner courtyards, which provide additional daylight to the interior. From here visitors reach the central atrium that connects the library and the archives, as well as bookshops, eateries, and conference areas. In contrast to the exterior shape of the building, the interior is based on an orthogonal grid that facilitates short distances, optimum utilization of the available spaces, and easy orientation between the different functions.
Since its opening in the autumn of 2018, visitors have had access to a total of over 460,000 books and media records in an area of 67,000 m² in total. In addition, there are areas for the public to spend time in: the central reading hall of the library extends through three stories in the form of stacked gallery levels. The up to 24-meter-high space, with its light-colored wood cladding on the walls and the indirect daylight from above, provides an agreeable atmosphere for concentrated reading and studying.