Mar. 09, 2022
Urban land recycling in Shanghai
gmp redesigns Caobao Road Campus for new hotel management college
Shanghai Business School (SBS) and École hôtelière de Lausanne (EHL) established the College of Shanghai Lausanne Hospitality Management (SLH) in 2021. A former university campus in Shanghai's Xuhui district is currently being renovated and expanded for SLH. In the international architectural competition for the Caobao Road Campus, the design by gmp von Gerkan, Marg and Partners Architects and WES LandschaftsArchitektur prevailed over submissions by practices like Ennead Architects and Gensler.
When completed, there will be 3000 students who will also live on the campus and be educated in the theory and practice of hotel management by 300 teaching staff. The site at Caobao Road has been used as a university campus since the 1950s and, over the years, a number of teaching and residential buildings have been built. The existing campus consists of a range of diverse buildings and the brief stipulated that some of these be retained and integrated into the new campus.

The concept by gmp and WES retains the arrangement of the historic layout consisting of three parallel axes, adding new buildings to form a new modern campus. The central axis is dedicated to teaching whereas the axis to the west is reserved for student halls of residence and student life in general. In addition to the teaching of theory, students are also to receive practical training, and to this end a hotel with conference facilities will be constructed along the eastern axis. The prominent 1955 building at Caobao Road will be converted to mark the entrance to the campus. The middle of the site is taken up by a cluster of several new buildings that are linked by a round atrium, which accommodates key communal functions under a large roof. Another building to be retained and refurbished is the sixteen-story hall of residence at Caobao Road. Furthermore, four additional halls of residence for students will be created that replicate the angled shape of the existing building.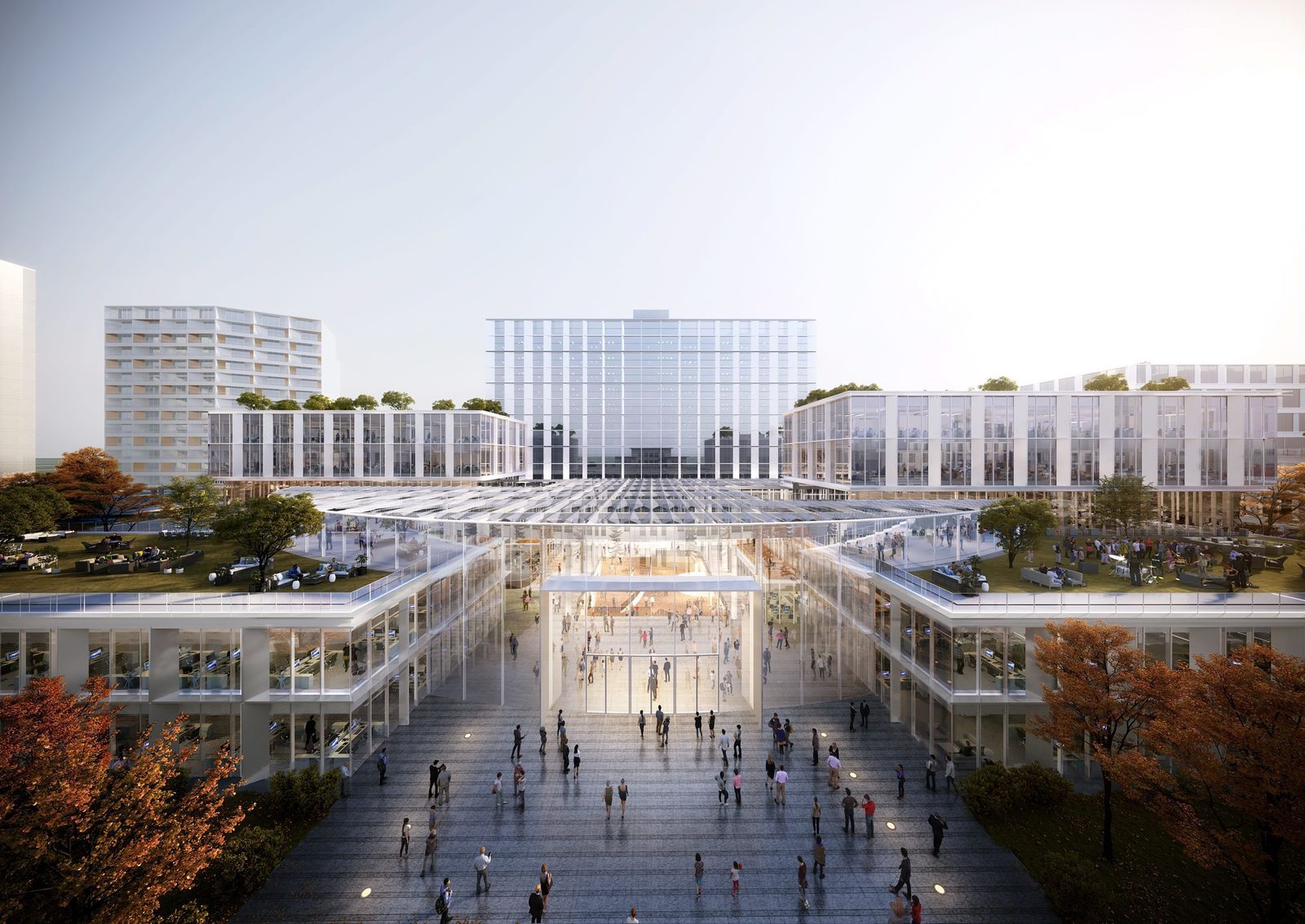 The guiding idea of the design of the Caobao Road Campus is that of an eco-campus, which, as part of urban land recycling, involves the reuse of building materials and existing buildings, the meticulous retention of the tree population, the harvesting and use of rainwater, the greening of roofs, and the use of natural ventilation and photovoltaics.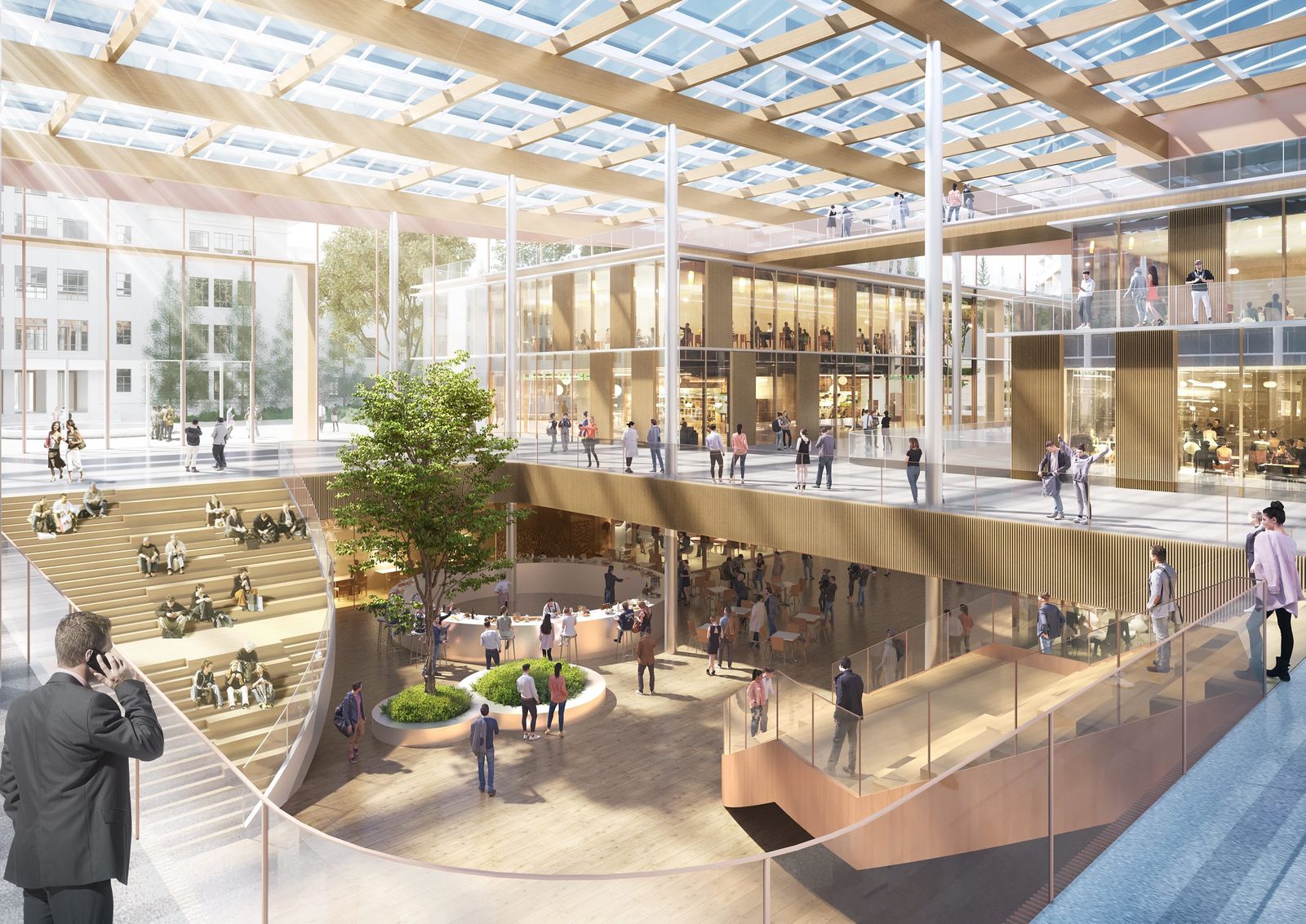 "In China too, the revitalization of existing buildings is an important task regarding the reduction in CO2 emissions and the increase in urban density, and is promoted with the help of legislation and regulatory instruments. In addition to the redesign of the Caobao Road Campus, gmp is currently involved in several large-scale renovation projects in China, including the conversion of an out-of-service stainless steel factory to create the new office of the Shanghai Academy of Fine Arts and that of the Jing IN International Center in Beijing. All these projects are not only indicative of the increasingly sustainable developments pursued by the Chinese construction industry but also, by retaining an existing identity, enhance the urban fabric." – Magdalene Weiss, Partner at gmp