2015.11.26-2016.01.30
信手之间
曼哈德·冯·格康50年建筑草图手绘展
On Thursday, 26 November 2015, the "Lines of thought" exhibition will open at St. Peter's Church in Riga. The exhibition will run until 31 January 2016, and shows architectural designs by Meinhard von Gerkan created during the last 50 years.

The exhibition was first shown in July 2015 in Hamburg, where it ran until October. The exhibition was occasioned by Meinhard von Gerkan's 80th birthday this year and the opening of the exhibition pavilion at Elbchaussee designed by him. The new exhibition pavilion is located in the immediate vicinity of the main office of gmp · Architects von Gerkan, Marg and Partners and the residence of the von Gerkan family. The second venue of the exhibition – St. Peter's Church in the inner city of Riga – is closely connected to Meinhard von Gerkan's life. This is where the architect, who was born in Riga, was baptized in the summer of 1935. St. Peter's Church (Latv. Svētā Pētera baznīca) at Pēterbaznīcas iela in the center of the inner city of Riga was the city's parish church in the Middle Ages. Architecturally the church is a large three-nave basilica in the Gothic style, built of red bricks. The church spire is similar to that of St. Catherine's Church, one of the principal churches in Hamburg.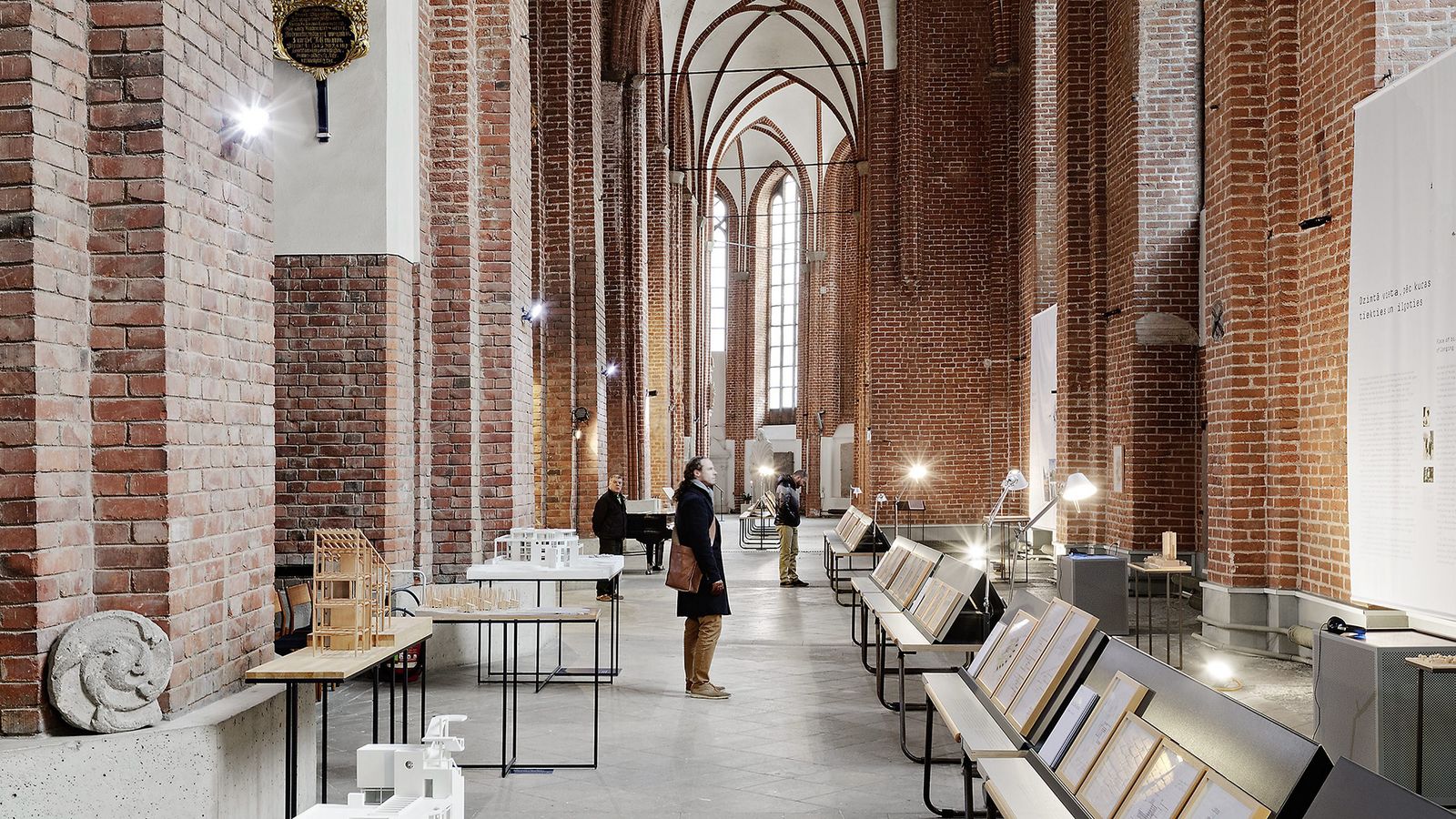 The "Lines of thought" exhibition looks back over the last 50 years of gmp architecture, but most importantly pays homage to an architect who, to this day, develops his designs with the help of sketches. It is also intended as a plea for architects and designers to be able to put ideas and conceptual thoughts manually on paper, in spite of the ubiquitous proliferation of digital design applications. From an archive of far more than 3,000 sheets, curator Michael Kuhn, Head of Communication at gmp, together with Meinhard von Gerkan, selected more than 150 originals relating to 46 projects.

Michael Kuhn is also the editor of the accompanying catalogue, to which architectural historian and journalist Gert Kähler has contributed the texts. The sketches selected are primarily those that exemplify von Gerkan's ability to use just a few significant hand-drawn lines to capture the core and character of even very complex projects. In addition, the exhibition focuses on designs that exemplify the work, the development and the milestones of the practice.

The exhibition includes the first drawings for the design of the Berlin Tegel Airport – the project with which the practice's history began – as well as those for Berlin's main railway station and the most important projects in Riga.

The exhibition was organized in cooperation with St. Peter's Church in Riga and the Vincents Grupa, Riga, as well as with the friendly support of the Latvian Ministry for Culture, the Riga Dome and the German Embassy in Riga.